It's the 21st century, and smart devices are causing sweeping changes in homes across the UK. Kitchens are being transformed by forward-thinking fridges and clever coffee machines, while light bulbs, locks, and doorbells have also got the smart treatment.
It was only a matter of time, then, before your garage came next. And it's a good job, too – smart garage door openers automate the opening and closing of your garage for smoother, more hassle-free mornings, and allow you to grant friendly faces access to your home, without you even having to be there. 
Smart garage door openers also offer peace of mind. You'll always know exactly whether your door is open or closed, and who's been through it – whether it's the kids, or a courier dropping off an important package. Smart garage door openers also help ensure the security of your garage, and everything in it – all the way from your Golf to your golf clubs.
But what exactly is a smart garage door opener? How much do they cost, what are the pros and cons? And – most importantly – which one is best for your home? 
Read on as we look at some of the best garage door openers available in the UK, and how to equip them with smart capability. Compare features, peruse prices, and shop from a range of the best smart garage door openers for your home.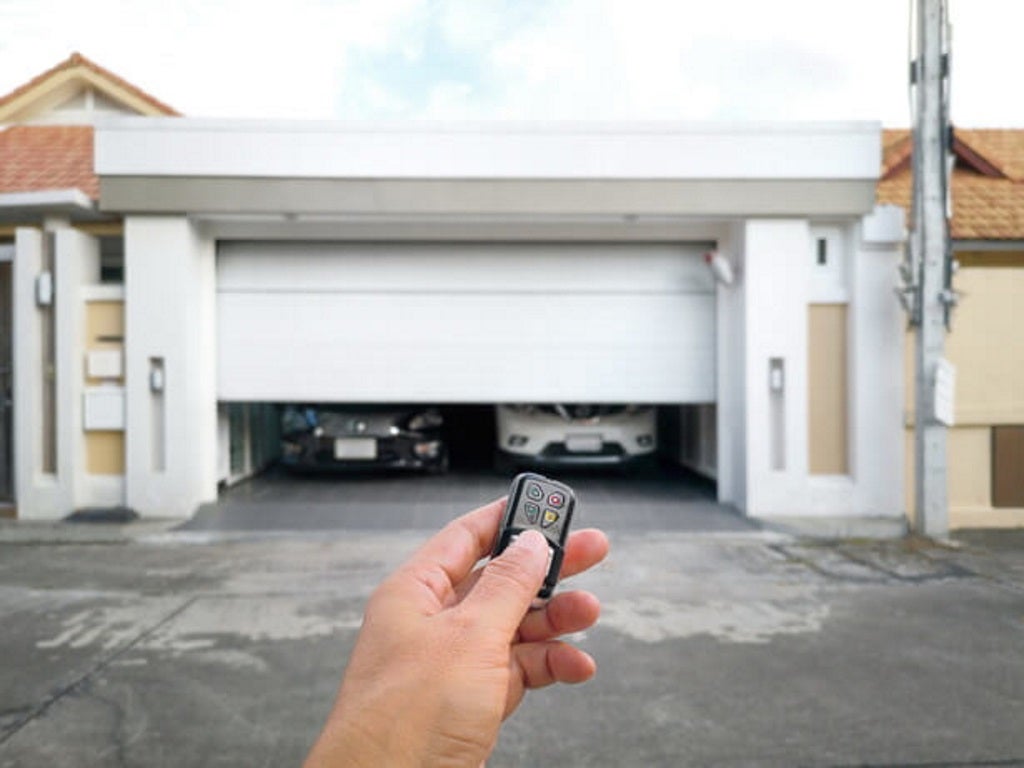 Pay homage to your garage: Smart garage door openers bring security, convenience, and peace of mind to your front yard
---
What are smart garage door openers?
Garage door openers are small devices that allow you to remotely open and close your garage with the touch of a button. However, whereas more traditional electric garage door openers rely on radio transmissions to do the heavy lifting, smart garage door openers operate via a wifi connection. 
This means that your smartphone or tablet becomes your garage door opener, replacing those small, infinitely easy-to-lose keyring fobs or remotes. You can also use your smartphone to check the status of your garage door, operate it from a remote location, and integrate it with your smart lights, cameras, and speakers.
Many smart garage door openers can actually connect directly to your car's Bluetooth or GPS, to automatically open or close your garage door as you come and go. And, because they're controlled with an app, you don't have to be in your driveway to monitor your garage, or manage who's accessing it. 
---
How much does a garage door opener cost?
If your home already has a remotely operated garage door installed, then good news – a smart garage door opener can be easily connected to your existing one for a quick setup. This option (known as a retrofit) is also wallet-friendly – the technology can be purchased from around £15. 
Of course, you'll want to take quality into consideration, too – and most retrofitted smart garage door solutions worth their salt will set you back upwards of £30. Top-of-the-range models are priced in the region of £130 to £150. 
If you don't already have a garage door opener installed, you'll need to purchase this separately. A standard electric door opener costs anywhere from around £150 to £300. You can also plump for a ready-made smart garage door opener that offers built-in smart capability. Prices here range from as low as £200 to more than £500.
---
What is the best garage door opener?
Our top smart garage door opener is the Chamberlain Hub. It tops our list because of its intelligent mobile app (myQ), simple installation, and high levels of customisation. 
We also picked the Hub because it works seamlessly with Chamberlain's range of garage door hardware, including the highly rated Premium Garage Door Opener model (£220, pictured). But which other models join Chamberlain at the apex of smart garage door opening excellence?
---
Top 5 smart garage door openers
Making up the rest of the best smart garage door openers in the UK are the Genie Aladdin Connect, Meross, iSmartGate Lite, and Asante Camera Kit. 
Let's find out why.
The best smart garage door openers for UK homes:
Chamberlain Hub myQ
Best smart garage door opener for innovation and integrations
If garage door openers were famous British wartime leaders, this one would actually be less of a Chamberlain and more like a Churchill; sturdy, reliable, and capable of mobilising quickly when you need it to. 
This retrofitted smart garage door opener works with most brands of garage door openers made since 1993. It's also compatible with your other key smart home components, letting you remotely control your home's lighting, and integrating with Google Assistant. 
And Chamberlain's free app, myQ, brings other big benefits to your garage. Aside from being slick and intuitive, it gives you real time push notifications every time someone's coming in or out, sent straight to the screen of your smart watch, phone, or tablet. 
Chamberlain has also partnered with Amazon in select cities in the US to provide Prime members with  'in-garage delivery' for users of the myQ app. That means no missed deliveries, or awkward one-hour time slots – just safe, secure package delivery, direct to your garage. Sadly, it hasn't reached the UK yet, but watch this space!
Price: £137.34 (FREE DELIVERY)
✔ Pros:
Simple to install
myQ app is some of the best smart garage door technology on the market
X Cons:
Some innovative features haven't yet reached the UK
Genie Aladdin Connect
Best smart garage door opener for customer approval ratings
If your three wishes are for convenience, security, and complete remote control over your garage, then look no further than the Genie Aladdin Connect. 
This smart retrofit connects to up to three doors, and lets you control them all from your smart device. You can also access an entire history of your garage's ins and outs, and detect any suspicious activity instantly. Genie-us! 
It's also well regarded by its customers, with an impressive slew of online reviews. That said, make sure you take your time over the installation – those same reviews also suggest the Genie isn't particularly intuitive to set up. We recommend calling a professional, who can send a lad in to help you out.
Price: £102 (FREE DELIVERY)
✔ Pros:
Refreshingly intuitive mobile app
Connects to up to three doors, although...
X Cons:
...you'll need to purchase extra sensors to connect to more than one garage door
Meross 
Best smart garage door opener on a shoestring
The Meross smart garage door opener doesn't look like much – it's basically a little white box, with a couple of wires attached. But what it lacks in aesthetics, it makes up for in simplicity, service, and sheer functionality – it's honest technology at a deceptively low price point.
The Meross retrofit pairs with Amazon Alexa, Google Assistant, and IFTTT (If This Then That) to let you operate your garage door via voice control. If you're the less talkative type, though, the Meross app still offers everything you need. 
From alerts reminding you to close the garage door to a straightforward, clean-looking interface, Meross deserves a place amongst the UK's finest smart garage door technology.
Price: £29.74 (FREE DELIVERY)
✔ Pros:
Highly rated by customers
No ongoing monthly software subscription fees
X Cons:
Lacks the same level of features as some of the pricier smart garage door openers on this list
iSmartGate Lite
Best smart garage door opener for features
While its name is a little twisty on the tongue, the iSmartGate Lite itself comes with minimal fuss – easy to install, easy to understand, and as easy to use as saying "Siri, open the garage door".
The iSmartGate Lite obeys voice commands not only from Siri, but from its rivals Alexa and Google Assistant, too – so whatever your existing smart home setup looks like, you can be confident that it'll work hand in hand with your garage. The iSmartGate app also lets you create multiple user accounts, and set location and time restrictions for each member of the family. 
Better still, this savvy retrofit allows you to hook up your current IP camera for real time video monitoring of your driveway, all from a single mobile app. And with a little tinkering, you can set it up so that the garage door automatically closes as you leave the house. One less thing to think about in the morning? Sounds good to us.
Also try: the iSmartGate Pro (£189, free delivery), paired with the iSmartGate Outdoor IP camera (£109).
✔ Pros:
Compatible with all garage door openers made after 1993
Highly customisable mobile app
X Cons:
Can only be used on one garage door
Asante Camera Kit
Best smart garage door opener for surveillance
When it's dark outside and there's an unexpected knock at the door, you can never be too careful. Unless, that is, you're equipped with the Asante Camera Kit. 
It's a smart garage door opener and home security camera rolled into one, with a free app and unlimited cloud storage to boot. Better still, its infrared night vision capability gives you eyes on any family member, burglar, or stray animal that wanders onto your driveway, at any time of day.
And, while its app is a little basic, it'll do basically everything you need it to. You can remotely close or open your garage, and receive real time push or email notifications when things are afoot at your property. 
Oh, and because it's a retrofit, you can nab it at the bargain basement price of £18.95. What have you got to lose?
✔ Pros:
Easy to install
Cheap as chips
X Cons:
Motion detection sensor sold separately
---
FAQs
Is installing a garage door opener easy?
There are a couple of answers to this. The main answer is yes – it's probably much easier than you think. That said, there's such a wide range of different garage door openers on the market, all of which will naturally differ in setup simplicity. If you can spring for it, it's worth enlisting a professional to help out.
If you already have a garage door opener installed, then good news – it's super simple to make it smart. Installing the retrofit smart garage door operators reviewed above is as straightforward as screwing something into a wall, or in some cases, applying a piece of double-sided tape to your garage roof. Just make sure that you read the instructions properly!
What's the average life of a garage door opener?
Most garage door openers last anywhere from 10 to 15 years, but in optimal conditions, you could get 20 or more from them. 
That said, your garage door opener's lifespan depends on several factors. These include quality of the supplier, the make, how well it's installed … and how much you're using it. 
As with most things, you're likely to find that you get what you pay for – so it's better to invest in models from well-known providers, such as the Schartec 800 (£119, free delivery), or the Hormann Supramatic (£269.96 + £14.95 delivery).
Do garage door openers need maintenance?
They do indeed. Like all household equipment worth its salt, your garage door opener will need a bit of TLC every now and again. A garage door opener comes with a lot of tricky components – you've got cables, rails, and springs to think about, plus the motor itself. 
Garage door opener maintenance usually involves lubricating the various moving parts, testing the balance of the door, and periodically replacing the rollers. If you're a DIY kind of homeowner, you'll be fine to do some of this, providing you read the manual first. The more hands-off types out there should call in an expert.