✔ We've picked the seven best solar panels on the market
✔ Solar panel prices have tumbled by 25% since 2014
✔ Many panels now come with a 25-year or even lifetime warranty
---
The
Smart Export Guarantee (SEG)
launched on 1st January 2020 to replace the old Feed-in Tariff. Check out our guide to the SEG to find out how much you could earn.
If you're thinking of switching to solar power, you'll find that there's a lot of choice on the market. This is a good thing – healthy competition means better products and lower prices – but how do you know which solar panel to choose for your home?
Fortunately, we can help. We've investigated the huge range of panels offered by nine of the world's top solar companies, and picked out the very best.
Want to skip the reading? You can find the best panels for your home by using our custom-built comparison tool. Simply fill in this free form, and our professional installers will be in touch with quotes. This way, you can weigh up the best options for you and your family.
The best solar panels overall
| Solar panel model | Best for |
| --- | --- |
| Project Solar Evolution Ultra Power Edition | Product warranty |
| SunPower Maxeon 3 | Performance warranty |
| SunPower Maxeon 3 BLK | Lightweight panels |
| SunPower X-Series X22 | Size |
| Solaria PowerXT Pure Black 400W | Power output |
| LG NeON® R ACe | Efficiency |
| Panasonic HIT® N340 | Heat-resistance |
Please note: these costs are estimated and based on industry averages. They are not an exact indication of how much you'll be charged by a solar panel installer. Want a better idea of how much you'll end up paying? Pop your details in this short form, and talk directly to our qualified solar panel suppliers near you.
Best for product warranty: Project Solar Evolution Ultra Power Edition
Power
Efficiency
Product warranty
Performance warranty (25 years)
Temperature
coefficient

370W
20%
Lifetime
85% after 30 years
-0.38% / °C
Project Solar provides customers with a lifetime warranty for its Evolution Ultra Power Edition, which displays the confidence you want from your solar supplier.
This panel is also guaranteed to work at 85% after 25 years and 80% after 30, which ensures that you'll be receiving plenty of solar energy for decades to come.
Best for performance warranty: SunPower Maxeon 3
Power
Efficiency
Product warranty
Performance warranty (25 years)
Temperature
coefficient

400W
22.60%
25 years
92% after 25 years
-0.29% / °C
SunPower promises that this model will function at 92% of its original level after 25 years.
This means the Maxeon 3 uses an impressive design. Most panels on the market don't offer much over 85% after a quarter of a century, so any number above that level is excellent.
Best lightweight panel: SunPower Maxeon 3 BLK
Power
Efficiency
Product warranty
Performance warranty (25 years)
Temperature
coefficient

375W
21.2%
25 years
92% after 25 years
-0.29% / °C
19kg is a gloriously low weight for a solar panel, especially one with 375W and an efficiency rate of 21.20%.
It's not the lightest solar panel out there, but it's the best lightweight model you can get without compromising on quality.
Best for size: SunPower X-Series X22
Power
Efficiency
Product warranty
Performance warranty (25 years)
Temperature
coefficient

370W
22.7%
25 years
92% after 25 years
-0.29% / °C
At just 1.63m², the X22 is a tiny model at current standards, which means you can cover your roof in these solar panels. 
SunPower's model may be small, but it's mighty, with 370W and a warranty that promises it'll keep being excellent for at least 25 years.
Best for power output: Solaria PowerXT Pure Black 400W
Power
Efficiency
Product warranty
Performance warranty (25 years)
Temperature
coefficient

400W
20.2%
25 years
86% after 25 years
-0.39% / °C
Solaria's 400W panel creates a heavyweight level of solar energy – and that, of course, could also save you plenty of space.
Instead of having to install 13 panels of 300 watts each to provide power for your family of three, you could install just 10. This means less time – and therefore less money – spent on installation.
Best for efficiency: LG NeON® R ACe
Power
Efficiency
Product warranty
Performance warranty (25 years)
Temperature
coefficient

380W
22%
25 years
90.8% after 25 years
-0.3% / °C
LG's model truly is an ace in the pack.
With an efficiency rate of 22% and a 25-year guarantee that its level won't drop below 90.8%, you can sit back and let the sun power your home for the next quarter of a century.
Best heat-resistant panel: Panasonic HIT® N340
Power
Efficiency
Product warranty
Performance warranty (25 years)
Temperature
coefficient

340W
20.3%
25 years
90.76% after 25 years
-0.26% / ⁰C
Panisonic's N340 model only loses -0.26% in output with every 1°C increase above 25°C, which is incredible.
With 340W, this isn't the most powerful panel around – but it'll stand the test of time, even in conditions that would have other panels quaking in their brackets.
How did we choose the best solar panels?
You can find a serious amount of detail about specific models of solar panels online, which can be pretty overfacing, so we boiled the information down to the things that really matter.
Here are the eight key factors we focused on:
1. Power
Measured in watts (W), 'power' simply refers to the solar panel's typical energy production in 'Standard Test Conditions' (i.e. an irradiance of 1000 Watts per square metre (W/m²) and a temperature of 25°C). For example, a 300W panel in five hours of STC could produce 1,500 Watts-hours (5 x 300W), or 1.5 kilowatt hours (kWh). Above everything else, it's power that determines the price of a solar panel.
2. Efficiency
Efficiency refers to the proportion of sunlight hitting a solar panel that is being converted into usable electricity. It's always expressed as a percentage, and generally ranges between 16-22% on the residential solar panel market.
3. Type
Most solar panels are either made from polycrystalline silicon cells or monocrystalline silicon cells. The former is cheaper, but the latter is more efficient, and looks sleeker. Which type you choose is up to you.
4. Product warranty
If you're investing in solar panels, you want them to last. Solar panel warranties can range from 10 years to an impressive 25 years.
5. Performance warranty
A solar panel's 'performance warranty' (also known as its 'linear output warranty') is a guarantee that the panel will be operating at a certain percentage of its original output after a certain number of years. This is typically somewhere between 80-90% after 25-30 years.
6. Temperature coefficient
All solar panels become slightly less effective as the weather gets warmer. The 'temperature coefficient' refers to the percentage decrease in output that occurs with every 1°C increase in the temperature after 25°C. Most panels have a temperature coefficient of around -0.30% /°C to -0.40%/°C.
7. Size
If your roof space is fairly limited, size will be a high priority when it comes to looking for solar panels. The average size of a solar panel is approximately 2 sq m, but some manufacturers have managed to make some fairly compact models.
8. Weight
Similarly, your roof might not be strong enough to take the biggest, heaviest panels on the market, so lightweight panels are an important alternative for all you flimsy-roofers out there.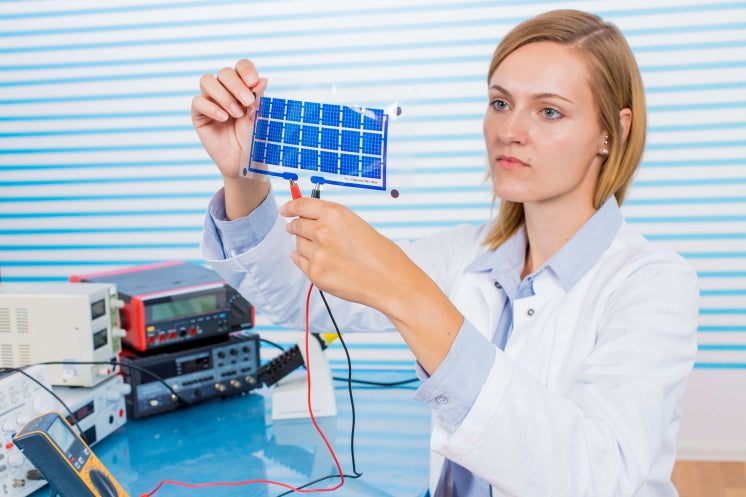 The 9 best solar panel manufacturers
We've taken a look at the world's best solar panel companies and assessed their product range, picking out the cream of the crop.
If you're thinking of harnessing the power of the sun, do it properly and make sure you get yourself top quality panels. Taking the cheap option is just not worth the risk.
Project Solar
Project Solar is undoubtedly the friendliest of all UK solar panel companies, which has earned the firm a score of 4.3 out of 5 on Trustpilot. 
With more than 15,000 installations to date and an industry-leading lifetime guarantee, you can trust Project Solar to provide excellent service with a smile.
SunPower
US-based SunPower entered the solar power industry in 1985, impressing everyone with its Maxeon® technology.
This creation was invented at Stanford University by Richard Swanson, involving an "all-back contact" solar cell with thick connectors, a solid metal backing, and no grid lines.
LG
LG is a real pioneer of solar technology, having developed solar cells for traffic signs and clocks long before it switched to residential and commercial solar panels in 2010.
Since then, its panels have won the coveted Intersolar AWARD in 2013, 2015, and 2016.
Panasonic
Japanese tech giant Panasonic has been a big player in the solar power industry since the 1970s, having sold more than 3 million solar panels in Europe alone.
The folks at Panasonic are very proud of their heterojunction (HIT®) technology, which reduces electricity loss at solar cell boundaries, and leads to highly efficient solar panels.
Canadian Solar
Canadian Solar means business – it's produced over 70 million solar panels since being founded in 2001, and runs operations across 20 countries worldwide.
What's more, it's leading the way when it comes to solar panel efficiency, with its BiKu CS3U-365PB-FG offering a whopping 23.8%.
Sharp
Sharp started out in 1915 selling mechanical pencils, but is now one of the world's biggest solar panel manufacturers, having installed residential solar PV systems since 2004.
The Japanese tech company offers no less than 13 different solar panels, so you're bound to find the right fit for your home.
Yingli Solar
Headquartered in Baoding, China, and led by the unfortunately-named Chairman Miao, Yingli Solar has become a big name in the global solar power industry.
It's shipped over 85 million solar panels (the equivalent of more than 20 million gigawatts) to 90+ countries, ranging from Europe and the US to South America and Australia.
Solaria
The California-based Solaria has been a hugely innovative member of the solar industry since its founding in 2000, with more than 65 issued (or pending) patents for various solar-related materials, products, and processes.
Check out Solaria's online gallery to see some of the gorgeous Californian homes that the company's decked out with solar panels.
Trina Solar
From its small beginnings in China in 1997 to present-day international status, Trina Solar has skyrocketed sunwards.
It now sells its panels in over 100 countries, and its modules have collectively displaced more than 32 million tons of CO2.
The best emerging solar technology
There are several fascinating new solar technologies revolutionising the industry at the moment.
Let's look at the most exciting developments.
Perovskite solar panels
In 2018, Oxford PV broke the world record by demonstrating its perovskite-silicon tandem cells could work at 28% efficiency – around one-third more than current standard panels.
The company did this by using a perovskite tandem solar cell. This cell uses both silicon and a synthetic material modelled on the special crystal structure of a mineral called perovskite.
This structure absorbs sunlight in a different, more effective way than purely silicon cells. 
Dr Chris Case, chief technology officer at Oxford PV, told us the cells could be "potentially 50% more efficient" than current panels, but said that for the moment, "we're getting about 20%."
Desalination
A solar-powered desalination system developed by researchers at the Massachusetts Institute of Technology (MIT) and in China provides seven litres of drinkable water per hour, for each square metre of the solar network.
It's not just happening in theory, either. The system has been set up in Kiunga, Kenya, by a non-profit called GivePower, and is able to provide 75,000 litres per day – enough for more than 28,800 people.
Floating solar farms
Floating photovoltaic systems – or 'floatovoltaics' – save on inhabitable space and produce significantly more energy. 
Studies have shown they generate electricity up to 11% more efficiently than land-based panels, because the water acts as a coolant.
China, Japan, Cambodia, Indonesia, India, and South Korea have all invested heavily in this area, and others are catching up. The Netherlands opened Europe's biggest floatovoltaic network in 2020, and more will surely follow.
Solar skin
This concept could transform an industry which relies primarily on thick, rigid panels.
University of Queensland researchers broke the efficiency record for solar skin in February 2020, reaching 16.6%. That means it's almost as effective as standard solar panels.
The scientists, who achieved this milestone by printing nanoparticles known as quantum dots onto transparent sheets, aim to raise the technology's efficiency to 20% and use it to power phones by 2022 – then homes in 2023, and after that: the world.
Wearable solar
Nottingham Trent University researchers have developed solar cells which are just 3mm x 1.5mm – as small as a flea. These cells can be embedded into yarn, which can then be turned into clothing.
The developers say a clothing item interwoven with 2,000 of these cells would be able to charge a smartphone.
The cells are even coated with a waterproof resin, so they're able to withstand a run through the washing machine. You'll be able to treat it like a normal piece of clothing, while still reaping the benefits.
Summary
By now, you'll know all about the best of the best when it comes to the solar industry, from panels and companies to exciting new technology.
If you've decided to get solar panels, the next step is finding the right deal – that's where we come in. 
Simply pop your details on this free form and let us take the reins. We'll pass on your details to our professional installers, who will then get in touch with their best prices. From there, you can discuss the best solar PV system for your house with qualified people who've got the know-how.