✔ Solar panels cost 25% less than they did in 2014
✔ The Smart Export Guarantee can now pay solar panel owners
✔ Solar panels can cut your energy bills by up to 50%
---
The
Smart Export Guarantee (SEG)
launched on 1st January 2020 to replace the old Feed-in Tariff. Check out our guide to the
Smart Export Guarantee
to find out how much you could earn.
The sunlight-absorbing magic of solar panels has captured the hearts and minds of eco-conscious homeowners up and down the country.
More than 970,000 UK homes have solar panels, according to the government's 2020 report, and that number is set to keep rising.
Prices have dropped by a massive 25% since 2014, so there truly has never been a cheaper time to buy domestic solar panels.
Unfortunately, there are no solar panels grants and no way of getting free solar panels in 2020. However, the future of solar is still bright.
The Smart Export Guarantee launched in January 2020, so it actually pays to switch to solar right now.
On this page, we'll tell you all you need to know about the government's solar panel initiatives (old and new), and explain why solar panels are still worth it.
To find out how much it would cost you to install solar panels, simply simply fill in this short form, and our qualified installers will be in touch. You can also check out our detailed page on solar panel costs to learn more.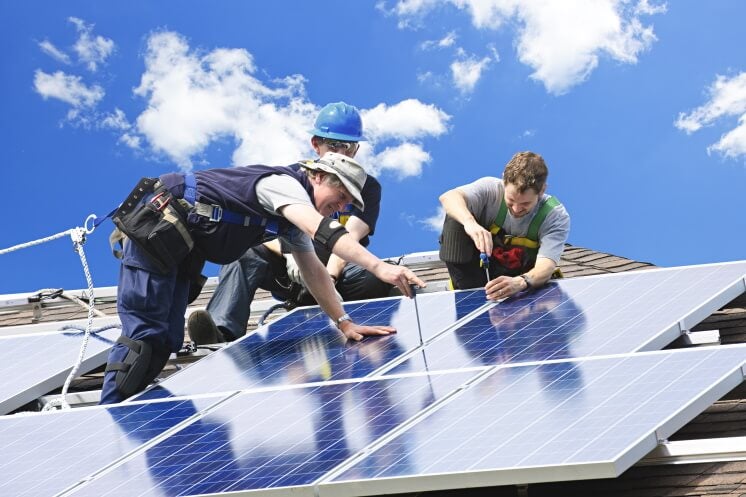 Can I still get free solar panels in 2020?
The short answer is no, unfortunately.
It's hard to believe that, back in 2010 when the Feed-in Tariff began, companies would literally buy your solar panels for you. They'd put them on your roof, you'd benefit from the energy bill savings (and all that eco-friendly electricity), and they'd earn all the money from the Feed-in Tariff. It was an efficient system, but the 64% reduction in Feed-in Tariff payments in 2016 hurt the initiative, and it was shut down in 2019.
Although the Feed-in Tariff has now concluded, a new government initiative called the Smart Export Guarantee has launched.
Please note: these costs are estimated and based on industry averages. They are not an exact indication of how much you'll be charged by a solar panel installer. For a tailored quote, fill in this free form, and talk directly to qualified solar panel installers near you.
Are there any government grants for solar panels?
There are no grants for solar panels available in the UK. The government used to provide interest-free loans and grants as part of the Green Deal, but this concluded in 2015. The Feed-in Tariff also came to an end in April 2019, but the new Smart Export Guarantee (SEG) started in January 2020.
The story of the Green Deal is a short and disappointing one:
Back in 2013, the government set up the Green Deal, which gave people a loan to help them buy solar panels (amongst many other energy efficient home improvements)

In 2014, the government launched a second Green Deal, changing the loans to grants – an upgrade that people took for granted…

In 2015, the government scrapped the Green Deal, largely due to lack of interest from homeowners
The current Green Deal Home Improvement Fund (GDHIF) is not quite the resurrection you'd be hoping for. It focuses on multiple types of energy-saving home improvements, but there's no funding for solar panels.
Solar finance and solar panel loans
If you can't afford the total upfront cost of a brand new solar PV (photovoltaic) system, there are ways to source the cash. Some companies offer homeowners low-interest loans and reasonable repayment plans to help them make the switch to solar. For example, check out the options currently offered by Pegasus Personal Finance and Evo Energy.
You can also get a loan from your bank to cover solar panel installation costs. Most banks offer personal loans specifically for home improvements, which could be used for renewable energy developments.
What about the Feed-in Tariff?
The Feed-in Tariff was a government initiative that paid households for every kilowatt hour (kWh) of electricity that they produced from renewable sources, also known as the Generation Tariff. On top of this, homeowners were also able to sell any unused electricity to the National Grid (this was called the Export Tariff).
The Feed-in Tariff was a huge success. Between 2010 (when the scheme began) and 2017, the UK's renewable energy capacity rose from 9.3 gigawatts (i.e. 9.3 billion watts) to a massive 38.9 gigawatts.
The Feed-in Tariff concluded in April 2019, but anybody who signed up before the deadline will still receive payments until their contract (usually 20 years long) expires.
You may have also heard of the government's Green Homes Grant  and Domestic Renewable Heat Incentive. Unfortunately, these schemes also won't help subsidise your solar PV system.
However, you should still check them out. The former could help you save £5,000 on energy-saving home improvements, and the latter subsidises homes which use eco-friendly heat sources.
This is all part of the government's aim to "build back greener" following the wide-ranging effects of COVID-19, and to reach net zero emissions by 2050.
Why has the Feed-in Tariff concluded?
The government wanted to focus on more commercial, high-impact solar projects, and the fact that solar panel costs have fallen by 25% since 2014 means there isn't as much need for subsidies.
That's right, a solar PV system for a three-bedroom house in the UK currently costs less than £6,000. Compare that to around £20,000 just one decade ago. Check out our detailed guide to solar panel costs in 2020 to learn more.
Subsidies are of course helpful though, and fortunately the government has set up a replacement for the Feed-in Tariff…
The Smart Export Guarantee (SEG)
The Smart Export Guarantee (SEG) has filled the hole that the departed Feed-in Tariff has left behind. However, instead of being based on payments from the government, the SEG will ensure that energy suppliers pay homeowners for any unused solar-generated electricity.
While the Feed-in Tariff involved Ofgem setting the rates, the SEG allows energy suppliers to determine their own prices. In a competitive market, this should lead to companies outbidding each other with higher repayment rates, creating better deals for the homeowner. Ideally, you'll be sitting back in your solar-powered home while suppliers scrabble for your business.
What's more, the SEG is a lot fairer than the Feed-in Tariff. The government used to pay homeowners for just 50% of their unused solar-generated electricity, even if households were exporting as much as 80% of their electricity back to the grid.
In contrast, with the SEG in place, energy suppliers pay homeowners for every single bit they send back – and this process is a lot simpler if your home is fitted with a smart meter.
How much can you earn with the SEG?
With the SEG in place, homeowners are now benefitting from 100% of their solar panels' hard work. Here's how:
All

used

solar-generated electricity contributes to

savings on energy bills

. This can save you up to

£330 per year

, according to the

Energy Saving Trust (EST

)

All

unused

solar-generated electricity is exported to the National Grid and bought by an energy supplier, with several suppliers

paying around 5.5p/kWh

. According to the EST, a 4kWp solar PV system could make around

£94 per year

on a 5.5/kWh SEG tariff
The best way to make the most of your solar panels is to combine them with a solar battery, and create a 'solar-plus-storage' system. A solar battery will stock up all the electricity that's generated during the day (while you're out), so it's there for you to use in the evenings.
To find out how much a solar battery will cost you, and to check out the best models on the market, visit our guide to solar batteries.
The short answer is yes!
The Smart Export Guarantee is up and running, and solar panels still come with a whole host of other big benefits.
Here are the main advantages of installing solar panels at home:
You'll save money on your energy bills.

A 4kWp solar PV system (around 12-16 panels) could save you

up to £330 per year

, according to the

EST

. 

They're eco-friendly.

The planet is spluttering its way through a humanity-induced

climate emergency

, and solar panels can help. A typical 3-4kWp solar PV system will save

1.3 to 1.6 tonnes of CO2 per year

(compared to a household that isn't using any renewable energy,

the swines

).

They'll give you electricity independence.

You'll rely far less on energy suppliers, so you won't have to rely on their pricing whims. You may still need to buy a bit of electricity from the grid, but the storage capability of a solar battery has the potential to take you entirely off the grid. So long, grid!
For the biggest savings on your energy bills, it's sensible to get your hands on high-efficiency panels. To find out more, check out our guide to the most efficient solar panels on the market in 2019.
And if you're keen to use as much as 100% of your solar panels' electricity output, you really should install a solar battery, and make sure you're insured for your solar panels.
Key takeaways
There are no government grants for buying solar panels

There's currently no such thing as a free solar panel

However, the Smart Export Guarantee pays solar panel owners for their electricity

You could save up to £330 per year with solar panels

Solar panels have never been cheaper – they're 25% cheaper than they were in 2014
Finding an installer
So that's that – the Feed-in Tariff has checked out, but the Smart Export Guarantee is very much in, and energy companies are coming up with all kinds of tempting initiatives. 
Meanwhile, solar panels are the most affordable they've ever been, promising hefty energy bill reductions and wholesome eco-friendly gains.
To find out how much it will cost you to get solar panels, fill in this short form, and our qualified installers will get back to you with their best prices.