Solar panels and electric vehicles are a match made in heaven ­– it's a partnership that will leave you with a smaller carbon footprint and more money in the bank. 
If you already own an electric vehicle (EV), you'll have noticed more and more places to charge your car popping up across the UK. You can now find them at workplaces, on residential streets, and in town centres, public car parks, and motorway service stations. But although this is fantastic news for EV owners, home charging points might be an even better option – and we're here to show you why. 
You can also use the government's Electric Vehicle Homecharge Scheme to get £350 off the cost of a home charging point. Fill in this form to see how much one would cost you.
Electrical vehicle charging from home
There are now more than 30,000 charge points across the UK in over 11,000 locations – that's more public places to charge your electric vehicle than petrol stations!
However, if you're considering getting an electric vehicle (or if you already have one), you should look into getting a charging station for your home, as it might save you a few extra pennies in the long-run. 
We've compiled a list of how much money you can save by charging from home – it may not look like much, but it'll mount up quickly. 
Charging at home vs charging publicly
We've chosen three different electric vehicle models for the results below, and based them on a charge level of 80%.
Solar panels and EV charging
There are a number of benefits to powering your car from home – not only is it more convenient, but it's cheaper too! And, if you want to save even more money (as well as being environmentally friendly), you can go the extra mile and use solar energy to power your car. 
Can you charge an electric vehicle with solar power?
Absolutely! If you're at home for most of the day, your electric vehicle can be charged directly from your solar PV system. If you plan to charge your car at night, however, you'll need a domestic solar battery storage system to store the energy harnessed throughout the day. 
If your solar panels can generate enough energy, it might even be able to power both your house and your car. That's right – no more energy bills or extortionate petrol prices!
How does it work?
To efficiently charge an electric vehicle using solar panels, you'll need to install a home charging unit and a PV inverter unit, which converts solar energy into electricity. 
There are EV solar charging systems available, but no dedicated standalone solar panel car charger is available just yet. We know that this might sound a little overwhelming – where do you even start looking for all these separate parts? So let us give you a helping hand. 
Our professional providers can match your vehicle to the perfect charging unit – all you need to do is tell us a bit about your home, and our suppliers will send you a free quote. 
Should I get a solar EV charging point?
For most people, the main selling point for electric cars is that they're much more environmentally friendly than their petrol/diesel counterparts. So, if you're looking to cut back on fossil fuels, getting an electric vehicle is a great option. 
Although electric cars are eco-friendly, the electricity they consume comes from the National Grid, which is still significantly fuelled by coal and gas. So, for those who want to take it one step further, installing an EV charging point at home – paired with an efficient solar panel system – will allow you to cut down your carbon footprint while saving money.
How big is your electric vehicle battery?
One of the key things to suss out before installing a solar panel system is how much electricity your car will consume. As a general rule, the bigger the battery, the more energy it'll eat away. 
To give you an idea of how many miles you can get out of different sized batteries, we've outlined a few examples below.
| | Battery kWh | Typical range |
| --- | --- | --- |
| Small (subcompact) cars | 30-35kWh | 99 miles |
| Mid-sized family sedan | 40-65kWh | 155 miles |
| Luxury Tesla models | 65+kWh | 375-mile range for Tesla S Model |
How many panels do you need?
It's difficult to give an exact estimate of how many solar panels you'll need to charge your vehicle, since the energy consumption depends on the size of the battery. 
On average, a solar panel system with about 10 solar panels can provide enough power to charge an electric vehicle – but bear in mind that you'll need more panels for a larger battery. 
Are there any financial benefits?
Like most things to do with solar panels, the initial cost of solar EV charging points will be steep, but you should be able to make your money back (and save more on top of that) by reducing the cost of travel. 
Prices of charging points vary, depending on which one you go for. Generally, prices range from a couple of hundred pounds for the most basic 3kW systems, up to around £1,000 for the more advanced 22kW units.
The solar panel system will also put you out a few thousand pounds on top of this. A 1kW system with four panels taking up eight square metres costs between £1,500 and £3,000 – with larger systems costing more.
This sounds like a lot of money to be splashing on a charging system that you can just get publicly, right? Well, according to Statista, the average British household spends £22 on petrol each week – that's £1,144 a year. 
So, if you switch from a fossil-fuel-powered vehicle to a solar-powered one, you'll be able to make your money back in a matter of a few years. Plus, if you already have solar panels installed onto your home, it really is a no-brainer!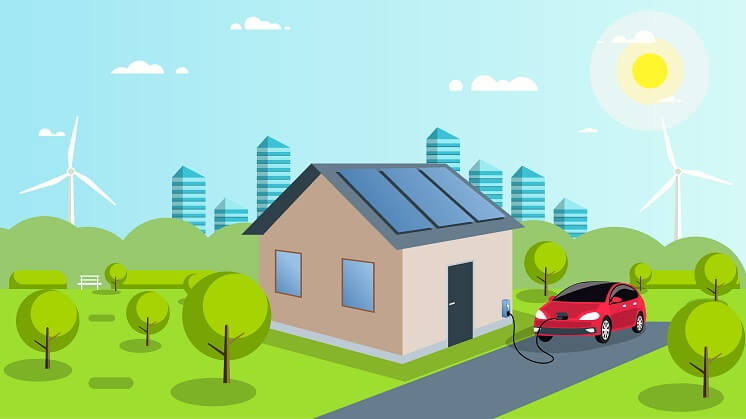 FAQs
Do I need planning permission?
Unless you live in either a listed building or a conservation area, you won't need planning permission for solar panels on your roof. The only exception is if you live in a listed building or a conservation area – in which case, you'll need to get 'listed building consent' to install solar panels, and planning permission on top of this. 
As for the charging points, you'll only need planning permission if it is a ground-mounted unit that's over 1.6 metres tall, or a wall-mounted unit that's more than 0.2 cubic meters in volume. Planning permission is also needed if charge points are fitted near a highway or on a listed building.
Can any electric vehicle be charged with solar panels?
Yes – you just need to make sure the size of your solar energy system is large enough to power your car.
How long does one charge last?
The time it takes to charge an electric car can be as little as 30 minutes, or more than 12 hours – it all depends on the size of the battery and the speed of the charging point. If your car's charging speed is a little on the slow side, you can always charge it overnight. You'll just need to install a battery storage unit for your solar panel system, which will store the energy that has been generated throughout the day. 
How much does an EV charge point cost?
Most people buying a home charging point opt for a wall-mounted device, which range from around £300 for a basic model, to about £800 for a high-end charge point. Freestanding charge points, on the other hand, are a bit pricier – typically costing from £1,000 to over £2,000.
Unfortunately, not every household will be able to afford this. This is why the government has released the Electric Vehicle Homecharge Scheme, where you can get £350 off the cost of a home charging point.
Installation costs vary, but tend to cost at least £400.
Next steps
Once you've sussed how much electricity you'll need your solar panels to generate for your vehicle, the next step is to take the leap and buy the charging point. 
Rather than scrolling through suppliers – judging which is more convenient, cheaper, or more reliable – let us do the hard work. We can match your home with the perfect charging point. All you need to do is tell us a bit about your home, and our professional installers will be in touch with a free quote.