Looking for a new way to spruce up your conservatory? A good way to do this is by replacing the roof – but it'll cost you. In fact, on average, you can expect to be set back between £2,250 and £7,000 for a conservatory roof replacement.
This price fluctuates so much because there are a lot of things to factor in – the size of the roof, the materials you're choosing, and the installer you go with. Want to learn more about the costs of roof replacement? Read on to find out everything you need to know, including choosing an installer and finance options.
If you've already got your heart set on a new conservatory roof, we can help you with that too. To make sure you get the best possible deal, don't settle for the first deal you find. Instead, fill out this short form and we'll get you in touch with our expert conservatory roof suppliers, who will be in touch with free quotes for you to compare.
What's on this page?
How much does a replacement conservatory roof cost?
A new conservatory roof replacement can cost anywhere between £2,250 – £7,000, depending on the type of roof you currently have and the material you go for.
There are lots of different options when it comes to replacing your conservatory roof, which can all impact the price. A glass roof, for example, will be cheaper than a tiled roof because the job is less labour-intensive, while a solid construction may require pricier structural work.
Want to learn more about the best materials for conservatory roofs? We have everything you need to know in our Guide to the Best Conservatory Roof Materials.
To give you an idea of how much you can expect to pay, we've listed the average cost for a replacement conservatory roof with the two most popular materials below:
| | | |
| --- | --- | --- |
| Type of conservatory roof | Size of roof | Average UK Cost |
| | (3,000mm x 3,500mm) | £2,355 – £2,705 |
| | (3,000mm x 3,500mm) | £2,892 |
| | (4,000mm x 4,000mm) | £4,675 |
| | (4,000mm x 4,000mm) | £5,042 |
| | (5,000mm x 5,000mm) | £4,800 |
| | (5,000mm x 5,000mm) | £5,222 |
Information from Checkatrade, July 2021
Pricing will also fluctuate depending on the type of conservatory you have. If you're unsure which category your conservatory falls under, check out the diagram below:
It's also important to remember that conservatory roofing tends to deteriorate over time – from leaks, to draughts, to discolouring – which will, unfortunately, lead to maintenance costs.
One way to overcome this is to get a solid conservatory roof.
The cost of replacing a conservatory roof with a solid roof
Before we get into the nitty-gritty of prices, let's first address what a 'solid roof' actually is.
A solid roof can refer to either a tiled or panelled roof. Tiles are lightweight and can add a traditional look to your conservatory, whilst solid panels can create more of a contemporary look.
The average cost for a standard solid conservatory roof replacement is £4,100 – for a larger conservatory, however, prices start at around £5,500. This price tag will, of course, fluctuate depending on the size and type of conservatory you have, as well as the material you go for. And don't forget to factor in the cost of plastering the interior.
Although solid roofs tend to be more expensive than alternatives, they're 15 times more thermally efficient than old glass or polycarbonate roofs. Just think about all the money you can save on energy bills.
By replacing a glass or polycarbonate roof with a tiled roof, you'll be changing the classification of your conservatory from a 'temporary' to 'permanent' extension. You should consult your local authority's building control department to check whether you need to apply for planning permission, which currently costs £462 in the UK.
The cost of a replacement glass conservatory roof
Glass is the most popular conservatory roofing material in the UK, which mostly comes down to its affordability. The price of a new glass conservatory roof starts from around £2,610 for a standard 3,000mm by 3,500mm lean-to conservatory.
| | | |
| --- | --- | --- |
| Type of conservatory roof | Size of conservatory | Average price |
| | 3,100mm x 3,100mm | £2,300 – £3,000+ |
| | 3100mm x 3500mm | £2,500 – £3,200 |
| | 3,100mm x 3,100mm | £3,000 – £4,000+ |
| | 5,100m0 x 5,100mm | £6,000 – £8,000+ |
| | 3,000mm x 3,000mm | £4,500 – £5,000+ |
| | 4500mm x 4500mm | £5,300 – £6,000+ |
Information from various websites including Checkatrade, Local Conservatory Prices, and Best Glaze, July 2021
Specialist glass panels are also available, including energy-efficient and self-cleaning glass, but this will cost a little extra. That said, you might find that the expense is worth it in the long run, as it can help you save on energy bills.
The cost of a replacement polycarbonate conservatory roof
Polycarbonate is another affordable option for conservatory roof replacement. Although, compared to the likes of glass, this material is not very popular, which mainly boils down to its lack of eco-friendly credentials and the fact it tends to let less light in. 
The average price for a 4,000mm by 4,000mm polycarbonate conservatory roof is between £4,345 – £5,005. Naturally, costs will depend on size and type of conservatory, so check out the table below to get a better idea of prices:
| | | |
| --- | --- | --- |
| Type of conservatory roof | Size of conservatory | Average price |
| | 3,000mm x 3,500mm | £2,530 |
| | 3500mm x 3500mm | £2,842 |
| | 4000mm x 4000mm | £4,672 |
| | 4500mm x 4500mm | £4,945 |
| | 4000mm x 4000mm | £4,800 |
| | 4500mm x 4500mm | £5,325 |
Information from Checkatrade, July 2021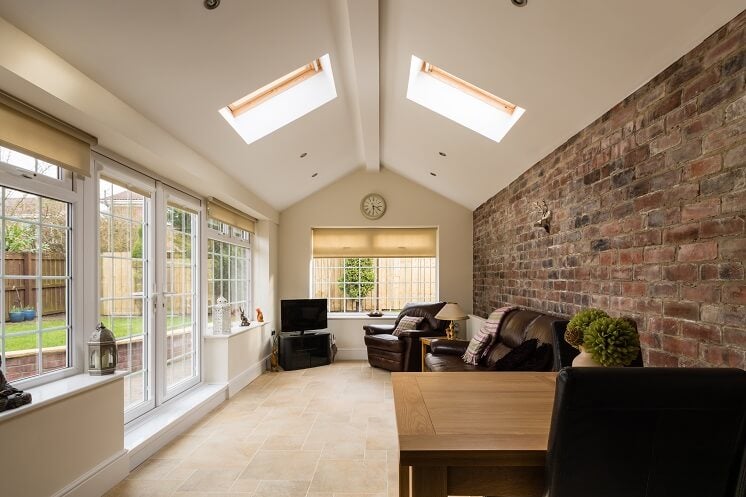 Is a conservatory roof replacement worth the cost?
Yes, a conservatory roof replacement is definitely worth the cost! Not only will you have a brand new room to enjoy, but you'll also be able to cut down on energy bills thanks to its improved thermal efficiency. If you go for a glass replacement, you might also be able to cut down on electricity bills by utilising more natural light – although, glass is not very thermally efficient, so it would also mean using more heating in the colder months.
While it can be a pricey procedure, replacing a roof is much faster than scrapping your conservatory altogether and starting over. In fact, your replacement conservatory roof can be watertight in just a couple of days.
As an added bonus, an upgraded conservatory will add value to your property, which is always good news.
Can I get the roof replacement done on finance?
Most roofing companies offer finance plans for replacement conservatory roofs, helping you spread the cost over a number of months or years.
Some companies also offer a discount if you opt to pay monthly over 12, 24, or 36 months through a finance scheme.
If you do look into finance options, bear in mind that some companies add interest, which could mean the work will end up paying hundreds or thousands more than it should do.
How to choose the right conservatory roof installer
Check they're a member of The Conservatory Association – This is a division of the Glass and Glazing Federation (GGF), which promotes technical and health and safety standards, and protects homeowners when buying glass and glazing services
Check if the company is Fensa (Fenestration Self-Assessment) registered – Fensa makes sure that your conservatory is energy efficient. You may even need a Fensa certificate in order to comply with certain building regulations
Compare quotes – There are great national and local installation companies that can help you, but make sure to shop around for the best deal. Typically, you should compare at least three quotes during your research – although, you can speed up the process by filling out this form. We'll pass your information on to our suppliers, who will be in touch with free quotes for you to compare.
FAQs
Do you need planning permission to put a solid roof on a conservatory?
The short answer is no, but it comes with a few complications. Since a conservatory is classed as 'permitted development', it now no longer needs planning permission. An extension, on the other hand, does need planning permission.
So, what's the difference? Well, unlike an extension, your conservatory will need to be separated from your home using external walls, and run its own heating system. You will also need to give neighbours the chance to object to changes using the Neighbour Consultation Scheme.
If you're unsure about whether you need planning permission, it's always a good idea to contact your local planning office or look at the Planning Portal website.
How long does a conservatory roof replacement take?
A replacement conservatory roof shouldn't take more than three days to complete, unless you're going for a solid roof that requires extra structural work – this might add a few more days on top.
How to get the best price for a replacement conservatory roof
Compare at least three quotes to ensure you get the best price
Compare local and national installers to see the difference in their products and prices
Get quotes in writing and make sure it includes all costs
Don't always choose the cheapest option – the quality and the energy efficiency rating of the roof will save you money in the long run
Make access to your conservatory easy – if it's difficult to get to your conservatory, installation companies will quote higher, since it will take them longer to install the new roof
Next steps
Hopefully, after reading this article, you'll be feeling more confident about conservatory roof replacement, whether you need one, and how much it will cost you.
Once you've figured out the style and material you'd like to go for, it's time to start shopping around.
Thankfully, we can make this process much easier for you, with our custom-built comparison tool.
All you have to do is answer a few quick questions about your home and let us do the hard work. We'll pass this information on to our suppliers, who will then be in touch with free quotes for you to compare.
[/vc_column_text][/vc_column][/vc_row]