✔ Increasing your roof's weight by under 10% is unlikely to cause problems
✔ A solid conservatory costs between £250 and £900 per square metre
✔ Complete the form above for free roofing quotes
---
Boiling hot in the summer, freezing in the winter, deafening in the rain … a conservatory can be a wonderful addition to your home, but they don't always acclimatise very well to, well, weather.
One possible solution to this is a solid conservatory roof – which, thanks to a change in the law in 2010, is now easier to add to your conservatory. But you must get the work done properly to ensure the walls and frame can bear the extra weight.
To get trusted professionals who'll know how to get the job done right, fill in this form for free quotes.
---
What's in this Guide to Solid Conservatory Roofing?
---
Benefits of a Solid Roof Conservatory
✔ More comfortable all year round: a conservatory with a glass or polycarbonate (clear plastic) roof can feel a lot like a greenhouse. In the summer, it's a suntrap; in the winter, all the heat escapes through the roof. It is not unheard of for people to end up using their conservatory purely as a storage room because the extremes of temperatures make it so often uncomfortable. A solid roof, on the other hand, will keep the temperature more balanced throughout the year, as it will provide better insulation in winter and less of a greenhouse effect in summer.
✔ Nicer appearance: this is very much a matter of personal taste, but some people prefer the look of a solid roof as it makes the conservatory look more like a true extension of your house.
✔ Energy saving: by insulating your conservatory better, a solid roof will reduce the money you have to spend heating and cooling it (although the savings are not likely to outweigh the cost of building it; see below).
✔ Noise reduction: a solid roof should be better at keeping noise out, especially from rain.
✔ Reduced glare: useful if you use the conservatory to work, watch TV or use computers or phones.
✔ More security: not only because a solid roof is obviously more secure than an old glass roof, but because of the greater privacy.
✔ Durability: a solid roof should be long lasting.
Disadvantages of a Solid Roof Conservatory
✘ Cost: A solid conservatory roof will be expensive, especially if you need to have structural work done. You are not likely to recoup the cost through savings on your energy bills – a solid conservatory roof is likely to save the average home £200 per year on energy bills, and the roof is likely to cost you at least £4,000. It is more about being able to use and enjoy your conservatory properly than about saving money.
✘ Disruption: You may need to have structural work done on your conservatory (see below), so the job may involve quite a lot of work over several days.
✘ Loss of natural light: Many people do feel that one of the essential benefits of a conservatory is how it floods with sunshine. You may also find that the amount of natural light you get in the room next to the conservatory is reduced by a solid roof. Roof windows or a part solid, part glazed roof can mitigate this to some extent.
✘ Appearance: A solid roof can look odd on a small conservatory, making it look top heavy.
✔ Pros:
More comfortable all year round
Nicer appearance
Energy saving
Noise reduction
Reduced glare
More security
Durability
X Cons:
Cost
Disruption
Loss of natural light
Appearance
---
What's Involved in a Solid Roof Conservatory Conversion?
If your conservatory has a glass or polycarbonate roof, then that will be what it has been designed to support. It may not be able to take the weight of a solid roof without structural improvements.
You may need:
A new roof frame, for example a timber frame
Posts, beams or lintels to support the new frame
Work on the foundations, which may not be deep enough; LABC, the membership organisation for council building control departments in England and Wales, states that you will need a minimum of 15cm of thick concrete
New windows or new window and door frames. This will almost certainly be the case if you have uPVC windows with no steel reinforcement. You can test this yourself by holding a magnet against the uprights – a strong attraction means they are probably well reinforced. If your windows and doors are old and not very energy efficient, you may decide to replace them anyway, so that the heat your new roof keeps in doesn't just escape through the sides.
Roof ventilation, most probably through vents, to avoid condensation and mould
Solid roofs do vary a great deal in how much they weigh, and some lightweight tiled roofs weigh around the same as or only slightly more than a double or triple glazed glass roof. The LABC states that increasing the weight of the roof by less than 10% is unlikely to cause structural problems.
However, you must always get all of this thoroughly checked. Any reputable installer will do a survey as a matter of course, often for free, before work begins to assess what alterations are needed. Steer well clear of any installer who does not – after all, you don't want your roof to collapse.
---
Solid Conservatory Roof Materials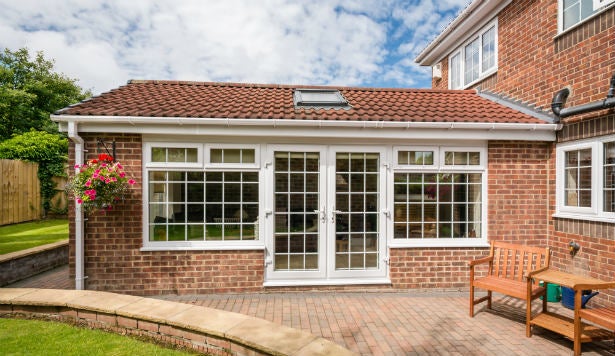 There are several different materials you can choose from for your solid conservatory roof:
Concrete tiles: These are used on house roofs all over the UK, and come in a variety of designs and colours, so it should be easy to get them to match your main roof if that's what you want. They are also quite inexpensive. However, they are heavy, so need proper support underneath – and some concrete tiles can absorb water, which makes them even heavier during prolonged wet weather.
Slate: Natural slate tiles are very long lasting, and many people consider that they look good. However, they can be expensive.
Synthetic tiles: Made from various materials, including plastic, synthetic tiles are usually very light and long lasting, and good quality ones look very like real slate. Some only weigh about the same as a double or triple glazed toughened glass roof. They are not usually too expensive, and are available in a wide range of colours, sizes and finishes.
Insulated panels: Instead of actually replacing your roof, another option is to install insulating panels inside the roof. These will be supported by a new timber frame, then covered with a uPVC or plaster ceiling supported by its own frame. You should have the roof thoroughly checked for leaks beforehand, and the panels will need to be properly ventilated to avoid condensation.
---
Solid Conservatory Roof Prices
A tiled or solid conservatory cost can be anywhere between £250 and £900 per square metre. This table gives the following prices for common sizes of conservatories:
| | |
| --- | --- |
| | Price Ranges |
| 3m x 3m | £2,250 to £8,100 |
| 3m x 3.5m | £2,625 to £9,450 |
| | £4,000 to £14,400 |
Most roofs will cost between £4,000 and £7,000. To get an accurate price for your home, you'll need to have an installer survey your property, as only then will they be able to tell how much work needs to be done. The price should include disposal of your old roof (unless you are not having it removed), and you should ask if building regulations compliance is also included. We can help to match you with qualified installers in your area – all you need to do is fill out this form.
In comparison, a glass roof for a 3.1m x 3.1m lean-to conservatory is likely to cost between £2,300 and £3,000, going up to £3,000 to £4,000 for a Victorian conservatory of the same size. Polycarbonate roofs are likely to be cheaper: £2,200 to £2,800 for the lean-to and £3,000 to £3,800 for the Victorian conservatory.
Be wary of any quote which seems ridiculously cheap or ridiculously expensive. A poor quality roof may not last, and may result in damage to your furniture, walls and floors if it leaks, gets condensation or falls apart. Equally, we have heard of people being charged exorbitant amounts, so make sure you don't get ripped off.
What Factors Affect the Cost of a Solid Conservatory Roof?
A number of factors will affect the cost of your solid conservatory roof, including:
The size of the roof
The design and style of the roof
The style of the conservatory: the more complicated the design, the more expensive the roof will be
The type of tiles: for example, concrete tiles cost about £12 to £22 per square metre, while slate tiles can cost up to £70 per square metre. You can also get clay tiles, which cost around £28 to £40 per square metre
How much work is needed: removal of the old roof, structural work, internal work such as fitting lighting and wiring, decorating and finishing the ceiling
What material any new frames are made of; for instance, aluminium and timber will be about 30% and 50% more expensive than uPVC respectively
Who your installer is
How many windows you are including in the roof, how big they are and what type of glass they're made from
---
Solid Conservatory Roof Reviews
The 3 big national firms – Safestyle, Everest and Anglian – all score well on the Trustpilot consumer reviews site. At the time of writing (July 2018), all three had a score of 4/5 stars.
Safestyle also does well on reviewcentre.co.uk, where it has a score of 4.5 out of 5, and 89% of customers say they would recommend it. On Feefo, the company scores even higher: 4.6 out of 5 for customer experience and 4.7 out of 5 for its products.
Anglian also has a score of 4.1 on Feefo for customer experience, but it only scores 3 out of 5 on reviewcentre.co.uk, with 53% of its customers saying they would recommend the firm. Everest scores 2.6 out of 5 on reviewcentre.co.uk, and 41% of customers say they would recommend it.
---
Finding a Solid Conservatory Roof Replacement Installer
It should be clear by now that fitting a solid conservatory roof is not a DIY job. You don't just have to fit the new roof, you have to remove the old one without damaging the conservatory, and make sure the whole structure remains sound.
FENSA, the government's biggest competent person scheme for glaziers, does not cover conservatories, but CERTASS does, so as well as looking for LABC and BBA accreditation, it's a very good idea to use a CERTASS registered firm. Members are regularly checked to ensure their work is of good quality and complies with building regulations, and membership of the scheme also means your guarantee is protected – if the company goes out of business, CERTASS will still honour your guarantee.
We recommend getting quotes from at least 3 companies. Get recommendations from friends and family if you can, and ask for references so you can talk to previous customers. Before agreeing to any work, ask for an itemised written quotation so you can see exactly what you are paying for – and can decline any parts of the work that you don't want. Ask what guarantee the installer offers and what insurance they have.
You can use the Eco Experts to find trusted local conservatory roofing installers in your area. Just answer these simple questions and get quotes from the best companies around.
---
Planning Permission and Building Regulations Approval: Is It Needed?
There is a lot of confusing advice out there about whether you need planning permission and building regulations approval to fit a solid roof onto a conservatory. So:
You don't need planning permission
You do need building regulations approval
There is significant confusion over the first of these because in the past, one of the conditions for being exempt from planning permission was that a conservatory had to have a predominantly (usually at least 75%) glazed roof. However, the rules changed in 2010, so a conservatory can now have a solid roof without needing planning permission. There is no harm in checking with the council, however, if you want to make sure that your conservatory meets all the other requirements.
However, you do need approval from your district or borough council's building control department. This approval is only for the roof and any associated work, not for the whole conservatory.
Any reputable installer should be completely knowledgeable in this area and able to comply with building regulations. Some of the national installers have worked with building control departments to come up with approved designs – look for LABC Registered Detail certification. Look also for BBA (British Board of Agreement) certification for the roof: this ensures it has been properly tested for quality and safety. But be aware that these accreditations are only for the product itself; your conservatory will still need to be assessed to ensure the structure can cope.
Ideally, your installer will take care of everything to do with building regulations for you; this may cost extra, but so will getting building regulations approval from the council yourself. Your installer or the council will give you a certificate confirming that the work complies with building regulations.
---
Alternatives to a Solid Conservatory Roof
If you don't want to or find you can't add a solid roof to your conservatory, you could consider these options instead:
A new roof made of more energy efficient glass. If you have a polycarbonate roof, you will definitely find glass better at regulating temperature and reducing noise.
Replacing some of the windows or doors if they are not energy efficient
Installing blinds, tinted glass or tinted polycarbonate to reduce glare from the sun
You might even want to consider a new conservatory – it might be a better investment than fitting a new roof on top of old windows and doors which are past their best
Check out our conservatory roofing materials page for more detail on everything from self-cleaning glass to polycarbonate, and be sure to fill in this form for free quotes from local experts.