This might not be news to anyone, but it gets pretty cold in the UK during the winter. 
We have central heating, hot water, and the cherry on top that keeps it all within the walls of our houses – insulation. One form of insulation that we couldn't live without is floor insulation.
If you're interested in insulation, whether it's your floors, walls, or roof, fill out our form. You'll be given free estimates for the cost of your insulation.
What is floor insulation?
You've probably encountered the concept of insulation throughout your life, and you've almost definitely unknowingly reaped the benefits of some.
To put it simply, the materials used to create buildings aren't great at retaining heat. They're not terrible – they'll keep some heat in just by virtue of being solid material that's difficult to penetrate, but they could be better at making sure heat doesn't leak out.
Which is why the walls and floors of a house (especially in a colder climate) are padded with insulation – substances that specialise in heat retention.
This is good for a multitude of reasons. It saves you money on your heating bill by making sure that all the heat you're paying for stays in your house. However, it also helps the environment by putting less strain on the grid and lowering your heat leakage. It's a win-win!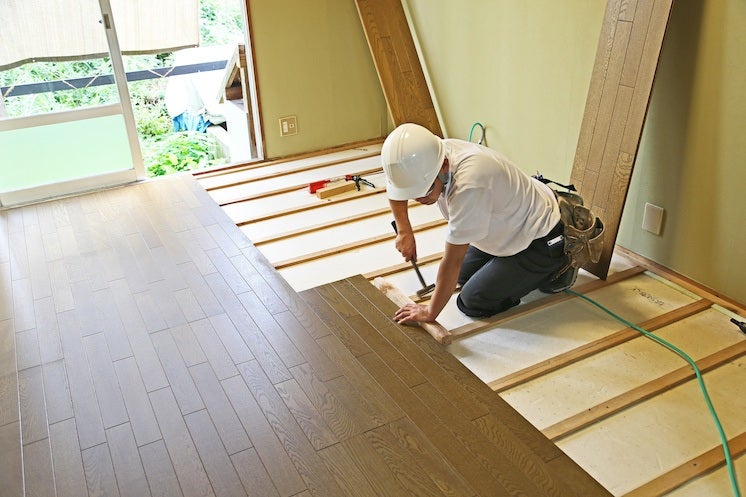 How does it work?
If you ever watch a show about home building or renovation, you might catch a glimpse of a wall being put up and see it full of what looks like candy floss, or a thick yellow duvet. This is the insulation of the house – a crucial snuggly protective layer.
This layer retains any heat within the building – just like an animal covered in fluff is more equipped to deal with the arctic tundra. It's not amazingly scientific, but if it works, it works!
Types of floor insulation
But getting down to the ground, we'll have a specific look at floor insulation. Lucky for us, floor insulation is possibly the simplest kind of insulation. If you have a multi-story house, you won't need floor insulation on every level – just the ground floor.
There are different ways you can insulate your floor. You can do down a nice easy route and simply close the gaps in the floor with sealant or tape. This means that any small drafts will be plugged up, stopping heat leaking out. However, here are some more "official" methods of floor insulation.
Insulation boards/EPS sheets
This is one of the most common and reliable methods of flooring insulation. These boards are great at efficiently retaining heat, considered one of the best insulation options.
They're solid, sturdy boards that are crack-resistant and waterproof. If you had to pick one option, there are few cases where this wouldn't be your best bet.
Polyurethane spray
Here's a method that needs to be done professionally, since you wouldn't want to get any of this stuff on your skin. While it can be expensive because of this, it's the insulation with the best lambda value – a fancy way of saying they retain the most heat.
It also doesn't take long to be installed, and the thickness can be customized. For example, if you're in a particularly cold climate, you might want a few coats to really seal in the heat. But someone living in a place with tame winters may only want one coating.
Cork, wood, or cellulose
These three substances are commonly used for any kind of insulation. Cork and wood simply serve to add another layer of heat retention to your floor. While they're not incredibly efficient at keeping heat in, they're cheap, and another layer can't hurt.
Cellulose is the insulating material that looks like ash or teddy bear stuffing. It's actually a plant fibre, and is used to keep heat in the same way that wrapping teddy bears around your body would make you nice and warm.
Insulating screed
This is usually used in conjunction with another method of insulation, so you wouldn't want to just get this on its own. It's a cement-like substance that you spread over pre-laid insulation. It seeps through any gaps or holes and makes sure there are no places for heat to escape.
Floor insulation cost
The cost of insulation depends on the method you use. If you want to go with the EPS sheets, you'll be looking at a price range of £7.00-£10.50 per square meter. 
With the polyurethane spray, it will cost you a bit more – you'll be looking at around £13.00-£17.50 per square metre. Like we said, this can't be done DIY – you'll need a professional to come in and spray it for you to make sure it's safe and even.
Finally, insulating screed will run you about £12.00-£16.50 per square metre. 
Floor insulation grants
You might be looking into any financial aid options when it comes to floor insulation. It's not too expensive to begin with, but you should save money where you can. For some people, that's what installing insulation is all about.
The government does offer grants for some people to install floor insulation, but there can be a few catches when looking at insulation grants. This website describes what you'll need to qualify for any kind of insulation, but we'll give you a brief overview.
Basically, the only criterion you absolutely need to qualify for an inspection is suspended wooden floors, since those are the most suitable for floor insulation. Once you book an inspection, the government will let you know if you qualify for a grant.
The government has one key grant when it comes to insulation: the ECO Scheme, which stands for Energy Company Obligation Scheme.
This initiative is specifically based on insulation. It's basically a bunch of energy companies coming together and pledging to help install eco-friendly home improvements to thousands of homes across the country.
Another scheme which provided discounted insulation, the Green Homes Grant, was cancelled a year early on 31 March 2021.
It was meant to provide 600,000 homes with up to £10,000 to install insulation or other environmentally friendly house improvements, but unfortunately fell 93.5% short of this target.
DIY vs professional insulation
You might be the kind of person who wants full control of what happens to their home. In that case, you'll want to know the implications of DIY insulation installation when compared to a professional installer's services.
The obvious benefit, and possibly the main reason you'd want to self-install in the first place, is that you save money. You'll only have to pay for the materials and tools you'll need to do the job – you won't be paying for anyone's labour or time.
But you'll need to know what you're doing. All the methods we've discussed involve peeling off your floorboards and installing the insulation within your house. If you don't know how to do this, you could be doing damage to your house that will cost even more to reverse. Here's a simple guide on what you'll be doing.
As far as costs are concerned, doing it DIY will only cost the amounts we listed above. However, hiring someone to do it will obviously cost a bit more.
Next steps
So that's all you need to know about floor insulation. It's not too complicated, and it's even possible to do yourself. It's a one time cost that can end up saving you money in the long time, while helping the environment and keeping you warm. What's not to love?
Remember, if you fill out our form, you can receive free quotes for insulation installation prices, allowing you to take the first step toward a cheaper and warmer home.