Keeping our homes warm in the winter is usually our number one priority in the run-up to the chillier months. And since the UK government will be rolling out the Green Home Grant scheme in September, you might want to be more prepared than usual.
What does this grant mean for you? Well, essentially, it means insulating your home won't leave you with an empty wallet, whilst also helping you shrink your carbon footprint. It's a win-win. 
And one of the key ways that UK houses lose valuable heat is through uninsulated cavity walls. So, why not take advantage of the Green Home Grant by wrapping up your walls this winter? We're here to guide you through the process, and answer any questions you may have.
To find out how much spray foam insulation will cost you, simply pop your details into this form and our trusted installers will get back to you.
What is cavity wall insulation?
To understand what cavity wall insulation is, first we need to discuss the difference between a solid wall and a cavity wall. 
A cavity wall is made up of two walls with a gap in between – the outer wall is usually made of brick, the inner layer of either brick or concrete block. A solid wall, on the other hand, has no interior cavity.
Now that we've got that out of the way… cavity wall insulation is when a heat-retaining material is inserted into the gap between the walls, to make sure most of the warmth in your home is unable to escape.
How does it work?
In most cases, cavity walls can be filled by simply injecting insulation material into the cavity from the outside. 
The installer will drill small holes, at intervals of around 1 metre, in the outside wall of your home. They then insert insulation into the cavity using special equipment. Once all the insulation material is in, the installer will fill the holes in the brickwork so you'll barely notice them. Simple!
Unfortunately, filling cavity walls is not a job you can do yourself, so you'll need to get a registered installer to do this. 
The cost of cavity wall insulation
Cavity wall insulation costs tend to vary depending on the size of your home. But whether you live in a large detached house or a small flat, you should be able to make back the installation cost in five years or less – all thanks to the savings you'll make on your energy bills.
For a detached home, you can expect to pay roughly £610 upfront for cavity wall installation, whereas for a flat, you'll be looking at spending around £345. 
Below, we've outlined how much you can expect to fork out for cavity wall insulation for each type of property.
To get a more accurate idea of how much it will cost you, simply fill in this quick form, and our suppliers will contact you with a free quote.
Cavity wall insulation savings
Although the initial cost of cavity wall insulation will put you back a few hundred pounds, you're likely to make your money back in no time.
Take a look at the graph below to compare how much money you can expect to save on your energy bills each year. You'll also be pleased to see that you'll be making a huge dent in your carbon footprint by getting your house insulated.
Cavity wall insulation grants
No matter how much we praise cavity wall insulation for its ability to reduce your energy bills, some people simply can't justify the initial cost.
If this sounds familiar, fear not – there's still a way for you to benefit from this handy home insulation. The government has two major grants to help homeowners increase their household energy efficiency. 
Green Homes Grant
This scheme will offer homeowners vouchers for up to £5,000 to go towards energy-efficient home improvements. Although the grant won't be available until September 2020, you can expect double glazing, insulation, boilers, energy-efficient doors, and energy-saving light bulbs to be among the home improvements eligible for financial support. 
The vouchers should cover at least two-thirds of the costs, with a limit of up to £5,000. So, if you wanted to fit insulation worth £4,000, for example, you would pay about £1,320 and the government would cover the remaining £2,680. 
To go one step further, the lowest-income households won't even have to pay anything, and could get vouchers of up to £10,000. Details of exactly who will be eligible for the grant, and what constitutes a 'lowest-income household', have not yet been announced – so keep your eyes peeled. 
To get a government voucher, you'll need to complete an online application for a recommended home improvement, get a quote from a listed supplier, and have the quote approved. As previously mentioned, the scheme is set to launch in September 2020.
The Energy Company Obligation (ECO)
This government scheme means that certain energy and installation suppliers are required to support low-income, fuel-poor, and vulnerable households in heating their homes. Whether it's to insulate your walls, or replace your boiler with a new sparkly eco-friendly one, the ECO scheme will lend a hand. 
However, not all UK residents will be eligible for this scheme. To reap the benefits of ECO, you must be a core group customer from scheme year 9 onwards under the Warm Home Discount Scheme, or you must receive at least one of the following benefits:
Armed Forces Independence Payment

Attendance Allowance

Carer's Allowance

Child Benefit (on the condition that the household's relevant income does not exceed the amount set out in Chapter 3 of government scheme guidance)

Constant Attendance Allowance

Disability Living Allowance

Pension Guarantee Credit

Income-related Employment and Support Allowance (ESA)

Income-based Jobseeker's Allowance (JSA)

Income Support

Industrial Injuries Disablement Benefit

Mobility Supplement

Personal Independence Payment

Severe Disablement Allowance

Tax Credits (Child Tax Credits and Working Tax Credits)

Universal Credit
Types of cavity wall insulation
There are three main types of cavity wall insulation:
Blown mineral fibre

– This option tends to be

the most environmentally friendly insulation

to go with. Fibreglass flakes have little impact on the environment, and the raw materials used in the production of glass wool can be sourced from recycled glass, sand, and other minerals. Better still, the insulation can also be recycled once you need it replaced. Fibreglass insulates very well, and, as a result, households will use much less energy.

PUR (polyurethane foam)

– PUR tends to be

the most effective material for cavity wall insulation,

but is also

the most expensive.

This fluid-like material is injected into the cavity,  before expanding and filling all the gaps inside the cavity. As a result, you get seamless insulation without thermal bridges. 

Polystyrene beads or granules

– Similar to mineral fibre, these beads/granules are blown into the cavity using compressed air. They may be supplied loose, or in a light sticky resin to hold them together. This type of insulation

tends to be cheaper than others,

but beware

–

it isn't as efficient as PUR, and isn't as environmentally friendly as wool.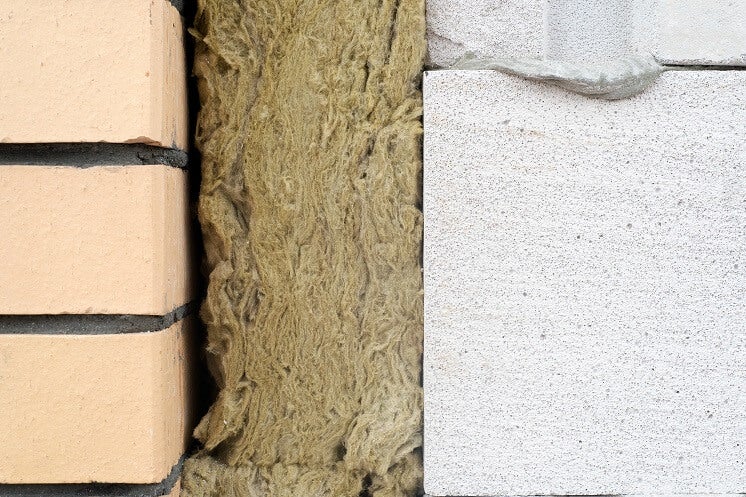 Problems with cavity wall insulation
If cavity wall insulation is installed incorrectly, it can allow water to seep into the walls. This causes structural problems and damp patches, which might also manifest into mould. 
This issue with cavity wall insulation can often take a few years to fully come to light, but we recommend keeping an eye out for the following signs, which indicate incorrectly installed insulation:
No noticeable increase in heat or temperature

Mould

Condensation

Damp

Damaged brickwork
What type of wall do I have?
One of the main ways you can tell if you have a cavity wall is by the age of the building. If your house was built after the 1920s, it's likely to have cavity walls. 
Another telltale sign of a cavity wall is the brickwork on the house. You will usually find an even pattern on a cavity wall, with all the bricks laid lengthways, whereas a solid wall will have an alternating pattern, with some bricks laid across the wall (so you can see the smaller ends from the outside).
If the brickwork has been covered, you can also tell by measuring the width of the wall. Examine a window or door on one of your external walls – if a brick wall is more than 260mm thick, then it probably has a cavity. 
Next step
Once you've figured out all the nitty gritty details of cavity wall insulation, you'll be well on your way to a more efficient and eco-friendly home. 
Next, all you have to do is find an installer. We recommend that you take your time to look around for the best deals – and always make sure the installer is registered with one of the following organisations:
Your home will be nice and cosy in no time! To receive a free quote for spray foam insulation, simply pop your details into this quick form.