✔ The grant is set to hand £5,000 to homeowners to replace their gas boilers
✔ You'll be able to get a heat pump for a heavily reduced price – or for free
✔ Homes currently make up 16% of the UK's total emissions
---
In April 2022, the government will launch the Clean Heat Grant – now known as the Boiler Upgrade Scheme – a new eco-friendly scheme replacing the Renewable Heat Incentive.
The initiative is set to cut £5,000 off the cost of a heat pump for households all over the UK.
We're going to address why you should leap at this chance if you own a gas-fuelled home, why you'll need to be quick about it, and the ways in which this scheme falls short.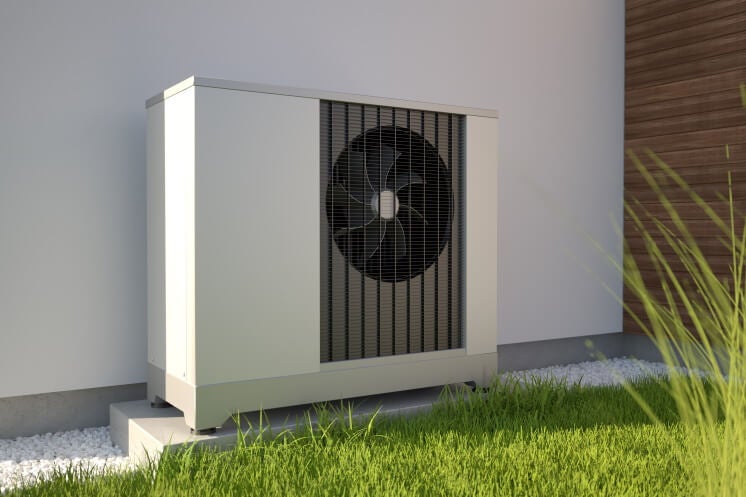 What is the Clean Heat Grant?
From April 2022, the government's Clean Heat Grant (CHG) will subsidise the installation of eco-friendly heating systems to replace gas boilers in homes all over the UK.
The £450 million scheme will give households £5,000 each to leave their polluting boilers behind, and install greener heating networks instead.
This makes the CHG different to the Renewable Heat Incentive (RHI), the Smart Export Guarantee, and even the now-defunct Feed-in Tariff.
All of these schemes were designed to give homeowners money when their renewable systems created energy, in order to reduce their running costs.
Instead, the CHG reduces the barrier to entry for households that would otherwise struggle to afford an eco-friendly system like the air source heat pump, which typically costs between £6,000 and £8,000.
Energy regulator Ofgem has stated that it will be the scheme's administrator, assuming everything goes to plan.
What can you buy with the Clean Heat Grant?
Government proposals indicate that you'll be able to buy a ground, water, or air source heat pump with the CHG.
Our recent investigation revealed that air source heat pumps are particularly worth the investment in the long run – especially with a £5,000 grant.
You should also be able to use the grant to purchase a biomass boiler – though only when it's impossible to install a heat pump.
Hydrogen-ready boilers may also be included in the scheme, though these will continue to use gas until hydrogen becomes a viable option – and it may never become viable, either technologically or environmentally.
Who can access the Clean Heat Grant?
Almost anyone who owns a home with a gas boiler should be able to apply for a Clean Heat Grant – though the lack of funding means only 90,000 households can claim £5,000.
The government has proposed that households must meet the following criteria to qualify for the grant:
You must have an Energy Performance Certificate (EPC) that's less than 10 years old. If yours is older, you can obtain one for around £90
The EPC must not recommend that the owner installs loft and/or cavity wall insulation
Why is the Clean Heat Grant happening?
The UK is trying to reach net-zero carbon emissions by 2050. To reach this goal, it has set a target to install 600,000 heat pumps per year by 2028.
The Clean Heat Grant is designed to help achieve both of these ambitions – though of course, Prime Minister Boris Johnson's government has already attempted to get households to make this switch.
The government's £2 billion Green Homes Grant failed because it was a poorly run, poorly advertised initiative that left installers and homeowners feeling confused and let down.
The CHG should be simpler to organise and implement, considering it just involves giving £5,000 to homes that are switching to a more eco-friendly heating option.
Why are homes important in the struggle to become more eco-friendly? Because their 67.7 million tonnes of annual carbon emissions make up 16% of the UK's total emissions, and because that total's not falling quickly enough.
Residential emissions have only decreased by 13.5% since 1990, according to government data.
That sounds like a decent amount, until you consider that the way the UK acquires its energy produces 67% less carbon emissions than it did in 1990, business emits 47% less, and transport releases 23% less.
In fact, only one sector has performed worse than residential homes: agriculture. That's a whole other problem, but suffice to say, we need to produce and eat fewer cows – and likewise, we need to heat our homes with greener energy.
How many households will benefit from the Clean Heat Grant?
Just 90,000 households will be able to claim £5,000 from the Clean Heat Grant.
That's a paltry 0.3% of all homes in the UK – and to put that in context, around 85% of households have gas boilers.
£450 million has been earmarked for the fund, which sounds like a lot – but it's not.
If you gave £5,000 to all 23.6 million gas-powered UK homes, to help them switch to an eco-friendly heating system, it would cost £118 billion.
That's a lot of money, but it's the current state of play.
It means that even if the CHG is completely successful, its £450 million fund will reduce the country's greenhouse gas emissions by less than 0.1% – a pitiful amount.
What will happen to the Renewable Heat Incentive?
The Renewable Heat Incentive, a government initiative to subsidise the running costs of biomass boilers, heat pumps, and solar water heating, is set to end in March 2022.
If you secure access to the RHI before then, the government will send you quarterly payments for seven years, based on the amount of electricity your system is estimated to produce.
The current RHI tariff is an impressive 10.92p per kWh, which compares favourably to the top Smart Export Guarantee rate of 5.57p per kWh.
However, even this tariff isn't enough to make air source heat pumps – the most popular eco-friendly heating system – cost-effective at current market rates.
This is why the Clean Heat Grant, with its reported up-front lump sum of £5,000, is necessary to switch people over from gas to cleaner forms of energy.
The verdict
The Clean Heat Grant is a welcome eco-friendly initiative. If it works, it will cut energy bills and greenhouse gas emissions for tens of thousands of households.
The programme's £450 million fund will reportedly be handed out on a first-come, first-served basis, so don't look a gift horse in the mouth – make sure you apply as quickly as possible.
But in a wider context, the CHG is a half-baked attempt by the government to create the impression that it cares about fighting climate change.
If we are going to reach net-zero at any point in the future, let alone in under three decades' time, then there's no point dedicating this much time, energy, and money to a programme that will – at best – reduce our emissions by a minimal amount.