To make sure the country reaches its net-zero emissions goal by 2050, the UK government is ramping up its renewable energy generation at an impressive rate.
As it stands, there are 871,608 renewable energy sites across the UK – with the most popular source being solar (Stelrad, 2021).
And out of all the UK regions, Cornwall is generating the most renewable energy, thanks to its sizable solar supply. Currently, there are over 18,000 sources of renewable energy across the county.
But how has Cornwall managed to perform so well? It mainly comes down to the sunny weather that the county gets, but we'll dig into it a bit further down the page.
If you want to join the thousands of UK homes that have solar panels, you can find the best deal by using our free comparison tool. All you have to do is answer a few simple questions about your property, and our suppliers will be in touch with free quotes for you to compare.
What makes Cornwall so good for solar power?
Put simply, solar panels in Cornwall are more likely to actually have sunshine around to turn into energy, compared to panels in places like Scotland or northern England.
Let's be honest, sunshine can often be a rarity in the UK. But generally, the further south you go, the more sunlight you'll find, which is great news for solar panel owners in Cornwall.
But does Cornwall really get that much more sunshine than the rest of the country? To outline the county's advantage, check out how much bright sunlight different areas of the UK received during 2020 below. We've categorised areas based on the Met Office's climate regions.
Data from Met Office, 2021
Overall, the sunniest month of 2020 was May – the month we all sizzled through an unusually hot spring. During this month, Cornwall (in the South Wales and South West England region) had the second-highest amount of sunshine, with a glorious 311.1 hours.
This trend continues pretty consistently throughout the year, with only two other regions – East Anglia and South East and Central England – getting slightly more sunshine in most months.
Can panels work in the heat?
Something that's also worth mentioning is that solar panels don't work as efficiently in hot weather – usually anything over 25°C. Yes, we know – a device that operates best in direct sunlight is impeded by high temperatures. It's certainly a bit of a design flaw.
To help users figure out how efficient their solar panels will be in hot weather, each panel has something called a 'Pmax temperature coefficient'. This refers to the amount of power a solar panel will lose as the temperature rises 1°C above 25°C.
As the UK's southernmost county with one of the highest amounts of sunshine, surely this means Cornwall is a likely place for solar panels to overheat? To analyse this a little closer, we've outlined the maximum temperatures each region experienced during 2020.
Data from Met Office, 2021
Even at its peak in August, Cornwall still had a lower temperature than three other UK regions – despite its sunny disposition.
It seems the recipe for solar panel success is a concoction of mild temperatures and plenty of sunshine.
Do solar panels work without direct sunlight?
Although direct sunlight increases the amount of energy solar panels can absorb, it's not a necessity. Solar panels can still work perfectly fine on overcast days – albeit not as efficiently.
Solar panels absorb the energy from the light spectrum that we can see, but also from different wavelengths that can pass through thick clouds.
So, although panels tend to work more efficiently in Cornwall, you'll still be able to utilise solar energy no matter where you live in the UK. And it's never been easier to get yourself some panels. Simply pop your details here and we'll get you in touch with our suppliers, who'll provide free quotes for you to compare.
How many solar panel sites are in Cornwall?
According to Stelrad's study, there are 18,076 solar sites in Cornwall – the highest number across the UK.
The report analysed data from the Department of Business, Energy & Industrial Strategy and found that the South West region produces the most renewable energy in the UK, with Cornwall taking the top spot.
In the South West, there is a total of 123,802 renewable energy sites – or 53.3 per 1,000 households – roughly 15% of which are located in Cornwall.
Are there solar panel grants available from the Cornwall council?
Currently, there are no solar panel grants available for Cornwall residents – or for the rest of the UK, for that matter.
The government used to provide interest-free loans and grants as part of the Green Deal, but this finished in 2015.
As a way to move forward from the COVID-19 pandemic with the environment in mind, the UK government also set up the Green Homes Grant. This £2 billion initiative covered two-thirds of the cost of home improvements (including solar panels) in an effort to cut energy bills and carbon emissions.
Unfortunately, the government cancelled the Green Homes Grant in early 2021, just four months after the scheme was extended. Over the course of a year, only 39,000 vouchers were issued – a mere 6.5% of the original 600,000-voucher target.
As the government pushes for more renewable energy across the country, it's hoped that there will be new grants available to the public in the future – though nothing has been confirmed yet.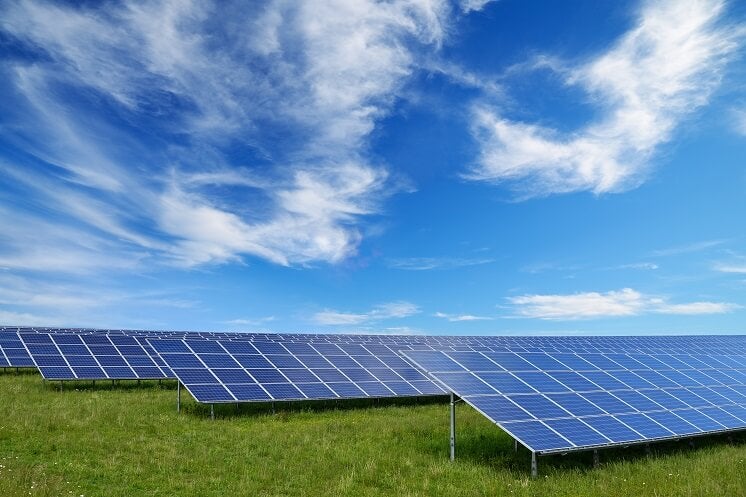 Do you need planning permission for solar panels in Cornwall?
Just like in most of the UK, any solar panels installed on domestic buildings and land in Cornwall are usually considered 'permitted development'. This means that planning permission is not required – but there are a few exceptions.
Cornwall Council suggests that:
Solar panels should be positioned on a building in a way that minimises the effect on the external appearance of the building
Stand-alone solar equipment should be positioned in a way that doesn't affect the accessibility of the area
Solar panels should be removed as soon as possible when no longer needed
Next steps
Cornwall's solar success is certainly leading the UK to its net-zero target for 2050 – but there's still a lot more work that needs to be done. In the coming years, the county is set to facilitate a handful of new solar farms, which will further increase the UK's solar capacity.
Public interest in solar is also growing, despite the government offering minimal financial help.
So, if you want to get yourself a set of solar panels – whether you're in Cornwall or any other part of the UK – use our quick comparison tool to find the best deal for you.
All you have to do is fill out a few simple questions about your property, and our suppliers will be in touch with free solar panel quotes for you to compare.