In the words of Chinese philosopher Confucius, "music produces a kind of pleasure which human nature cannot do without". And he's right – whether it's a moment with Mozart or a second stolen to the smooth sound of Springsteen, music provides a powerful, poignant soundtrack to our lives.
And let's face it – life's too short to listen to music on speakers that aren't smart. 
Smart speakers play music on demand, completely wirelessly. They also connect to virtual assistant software such as Siri or Alexa, meaning you can operate them with your voice. You can ask your smart speaker to play music, or get it to do stuff like turn on your lights, check the weather, or verify that that quote you just read in an article actually was written by Confucius.
And with smart speaker tech being largely affordable (grab it from just £29.99) and better than ever, it's a great time to invest. But, with so many options out there, choosing the right model can be more difficult than sitting through a Nickelback album.
That's why we've done the research, putting together our list of the best smart speakers available to UK homes. These speakers not only sound awesome, but look it, too – and work with your other smart devices to fill your home with great tunes, and unmatched convenience. 
Sound good? Let's take a look at the best smart speakers in the UK.
Jump to:
---
What are smart speakers?
Smart speakers are a type of wireless speaker for your home. Unlike regular speakers, the smart kind are voice-activated, and boast an integrated virtual assistant such as Alexa, Bixby, or Siri. 
Smart speaker owners simply have to say a 'hot' or 'command' word (such as "Hey, Google") to activate the speaker. Then, the user just has to state their wish ("play Bohemian Rhapsody"), sit back, and soak in the tunes. It's that easy.
---
What can smart speakers do?
Smart speakers aren't just for 70s music addicts, though. They also allow you to create reminders, set alarms, and add events to your calendar. And, if it looks grey in the morning and you just can't be bothered to get out of bed, you can ask your smart speaker to provide a weather update, and check on the state of the traffic.
And, if it's just all too overwhelming, you can then ask your smart speaker to call your boss… though you'll have to pretend to sound ill all by yourself! Yes, smart speakers can make calls, and even send text messages – and your phone doesn't even need to be in sight.
Smart speakers also tap straight into the internet, to answer any questions you might have about history, pop culture, or who just won the Rugby World Cup (it was South Africa). And, if you're an online shopping enthusiast, you can use your smart speaker to place, cancel, or re-order items purchased online.
Oh, and in a masterstroke for smart speakers (and technology as a whole), they work with the rest of your home's smart devices. Not just lights, but robot vacuums, kitchen appliances, and garage door openers, too. You can even link up your video doorbell security camera, and ask your smart speaker to stream it straight to your TV.
This all sounds amazing, right – so how much is it going to cost?
---
How much do smart speakers cost?
Believe it or not, probably not as much as you might think. Smart speakers such as the Majority Darwin are available for as little as £20, and the Zolo Halo is just a shade pricier at £30.
Amazon's own smart speaker range starts at £34.99 for the Echo Dot (3rd generation), while its flagship model (the Amazon Echo (3rd generation)) goes for £89.99. The Echo Plus (2nd generation) sells for £139.99.
Elsewhere, big-name brands like Bose and Sonos will set you back closer to the region of between £170 and £200. Smart speakers with a built-in screen (such as the Amazon Echo Show) can cost up to £220.
---
What is the best smart speaker on the market?
It's got to be the Amazon Echo Plus. Balancing aesthetics, price, features, and excellent sound quality, this device will probably change your life (for the better). 
But that doesn't necessarily mean it's the right option for your home – so that's why we've rounded up four other devices also basking in splendour at the smart speaker summit. These are the Sonos One, Bose SoundLink Revolve, Zolo Halo, and Amazon Echo Show.
---
Top 5 smart speakers
We've chosen the top 5 smart speakers in the UK for sound quality, ease of use, value, and features. Scroll on for in-depth reviews, price comparisons, and to shop your favourite brands. Or, dive into the list below to jump straight to a specific model.
The best smart speakers for UK homes:
Amazon Echo Plus (2nd generation)
Best smart speaker – full stop!
When it comes to all-round excellence, the Amazon Echo Plus delivers like no other smart speaker before it. Even without its vast glut of intelligent features, the Echo Plus more than holds its own amongst the best smart home tech in existence. 
When it comes to sound quality, the Echo Plus is king. Powered by Dolby play 360, dynamic bass response, and the crispest vocals ever to grace your ears, the Echo Plus delivers decibels at a standard nothing short of life-affirming. Plus, its seven microphones and noise cancelling capability mean Echo's ears are always attuned to your needs – even when the volume's up too high.
And, because this smart speaker triples as a virtual assistant and smart hub, the possibilities feel limitless. You can make calls, receive calls, and even drop in on other rooms in your house to make announcements. No more yelling at the top of your voice to announce that dinner's ready – the visionary voicebox of the Echo Plus does the legwork for you.
✔ Pros:
Comes with a built-in Zigbee hub for working with your other smart home gadgets
Beam-forming technology provides delicious sound quality
X Cons:
Maybe Amazon's aggressive marketing of it - but the product itself is still excellent
Sonos One (2nd generation)
Best smart speaker for music
Our top pick for music-lovers, the Sonos One not only looks sleek – it provides slick, silky sound quality for even the most discerning sets of ears. 
Equipped with a pair of Class-D amplifiers and custom-made drivers, the Sonos One is engineered to deliver the highest-quality audio on the market. Fill your rooms with the sound of your favourite songs, while tapping into the Sonos One's touch controls to skip tracks or adjust the volume. 
Sonos One also taps into more streaming services than you can shake a stick at (66, to be precise). Think Spotify, Apple Music, Deezer, Tidal, YouTube music… you name it, you can listen with it.
Plus, the Sonos One's integration with Amazon Alexa means you can operate this smart speaker solely with your voice. Oh, and, though we'd mainly recommend this speaker for playing music, it also comes with all the smart features you'd expect from a top line speaker, and more. 
That said, it's also the most expensive unit here. For a less budget-stretching smart speaker selection, read on…
✔ Pros:
Connects wirelessly to Sonos devices in other rooms
Offers a range of brilliant accessories, however...
X Cons:
… these will cost you a fair bit extra!
Bose SoundLink Revolve
Best smart speaker for reliability
The name 'Bose' has been around for so long, we're pretty sure the dinosaurs were appreciating the sound giant's slender speaker designs, and sharp sound quality. And for good reason – Bose is a consistent provider of dynamic, classy speakers. 
It's no surprise, then, that Bose's foray into the dense jungles of smart speakers has been a successful one. The SoundLink Revolve cuts through the fluff and foliage to offer up a smart speaker that's surprisingly simple. With 360-degree coverage, a 12-hour battery life, and a sound that's both deep and impressively immersive, Bose's chief entry into the smart speaker canon gets the basics right.
It does the tougher stuff well, too – the SoundLink Revolve pairs with Apple and Google to bring the convenience of virtual assistant tech straight to your living room. It's also not as pricey as some of the other smart speakers here, making it a solid investment for the budget-conscious.
For those lucky individuals who don't fall into that category, the Bose Home Speaker 500 (£299.99) offers raw audial power and unadulterated functionality – though at an understandably higher price point. It comes with built-in Alexa capability, and also works with Apple AirPlay 2.
✔ Pros:
Durable and water-resistant aluminium body
Can be paired with other Bose speakers for a fuller sound
X Cons:
Charging cradle not included
Zolo Halo
Best smart speaker on a budget
Who said smart speakers had to be expensive? Not us, that's for sure. And not Zolo, either – its Halo model is a devilishly innovative device, available at an angelically low price.
With built-in Alexa technology, the Zolo Halo connects you to a audial buffet of music, audiobook, and radio streaming services, all accessible via voice control. 
And, whatever tune or tale you're listening to, you can be confident that it's being carried to your cochlea by a professionally-tuned, high-excursion speaker and bass port.
✔ Pros:
Comes with an 18-month warranty
Lifetime technical support available
X Cons:
Doesn't boast the same classic look as other smart speakers on this list
Amazon Echo Show (2nd generation)
Best smart speaker with screen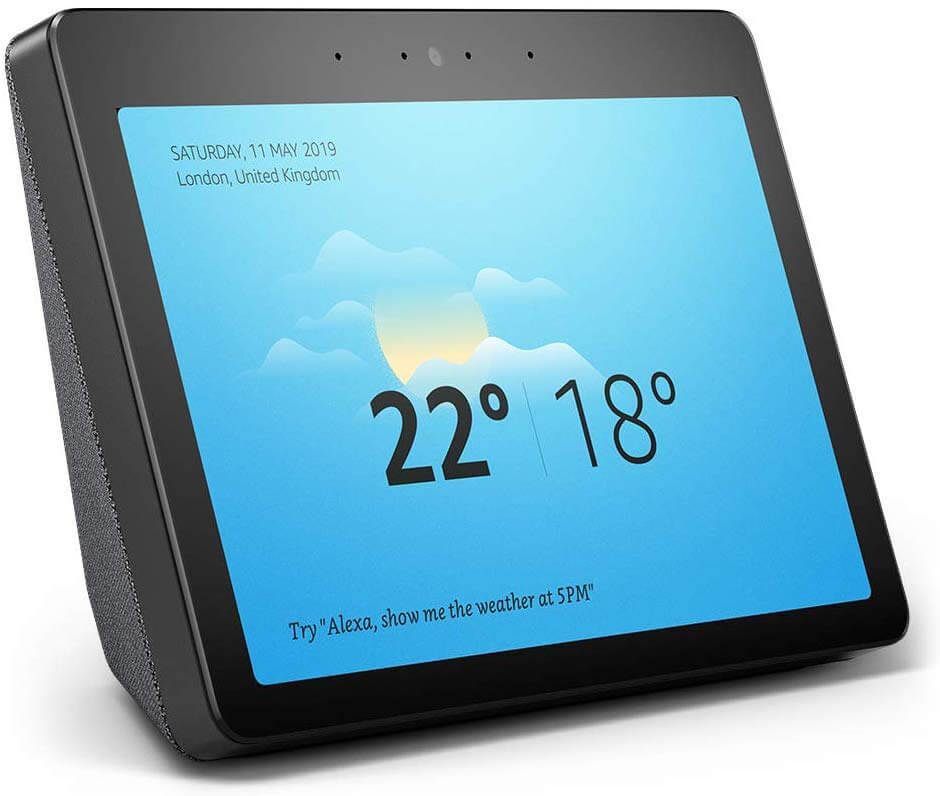 What happens when your smart speaker meets your tablet? When the best audio quality meets films and television on demand, all powered by some of the smartest virtual assistant technology money can buy? 
Well, the Amazon Echo Show happens, that's what. Boasting a 10-inch HD screen and sharp acoustics, this handy smart speaker will quickly become the central cerebrum of your smart home setup. 
Music lovers can sing along to their favourite songs with lyrics on the screen, or even get the wider family involved with simple video calling. Connect with ease to your favourite shows on Prime Video, or keep up with breaking news – all from a single device. 
And for the budding cooks out there, the Amazon Echo Show is your new sous chef. Ask it to bring up the evening's recipe, and get step-by-step instructions on the screen. You can compose shopping lists with your voice, and easily set timers to go off when the food is done.
Sure, it's expensive. But this smart speaker also comes with two Philips Hue light bulbs that can be controlled through the device. And remember, when it comes to such ground-breaking tech, you're not just investing in novelty today – you're buying yourself a lifetime of more convenient tomorrows. 
✔ Pros:
Comes in two striking colours
Multiple layers of privacy controls protect your family
---
FAQs
Are smart speakers safe?
Smart speakers are safe. All smart speakers from the big brands like Amazon, Bose, and Google support WPA-2 (wifi protected access) encryption. It's basically a layer of security that insulates your data and instructions against interception by hackers. 
Let's face it, though – for most of us there probably aren't hordes of hackers hounding to get into our home's wifi networks. That said, if you're making online purchases through your smart device, it's wise to keep safe. 
Luckily, most smart speakers support two-factor authentication. That means you'll be sent a code when you try to buy something, and will have to recite it back to your speaker to confirm the transaction.
Can smart speakers be hacked?
Like most devices plugged into the Internet of Things, smart speakers rely on wifi to get by – so yes, in the right conditions, they could be hacked. That said, there are a couple of lines of reason you can lean on for comfort.
The first is that your smart speaker comes from some of the most innovative minds Silicon Valley (and the wider world) have to offer. Their products need to be secure, otherwise they wouldn't be in business. Plus, the software powering your smart speakers undergoes constant updates to help keep you safe. 
Secondly, it's highly unlikely that there are any master hackers out there with your smart speaker in their crosshairs. Relax, enjoy the music, and ask your smart speaker when dinner's ready.
Do smart speakers listen to you all the time?
No article about a piece of smart home technology would be complete without touching on an elaborate conspiracy perpetrated by the world's biggest corporations. So, let's address it – are smart speakers spying on us?
The answer, unsurprisingly, is… probably not. That said, the bad (and somewhat sinister) news is that smart speakers are indeed listening all the time – waiting to hear the activation word, such as "Hey Siri", or "What's up Cortana".
The good news, though, is that (with Amazon Alexa, at least) this background recording can be turned off in the device's settings. However, Amazon warns that disabling such a setting may result in your smart speaker having more limited functionality. Worth it? We'll let you decide.