✔ The best monitored alarm system is the SimpliSafe Bamburgh
✔ A monitored alarm system can cost as little as £249
✔ Monitoring services watch over your home 24/7
---
The best way to protect everyone and everything you love is to keep an eye on it every minute of every day – but that's impossible.
That's where monitored alarm systems come in. When any of your sensors are triggered, staff at your monitoring centre will contact you to check it's a genuine emergency. If they can't get in touch, they'll assume it's real, and will alert the authorities.
We've rated the SimpliSafe Bamburgh as the best monitoring system, ahead of packages from Verisure, AMCO, and ADT. If you want to find out why, keep reading – otherwise, fill in this form to receive quotes for security alarm systems.
Best 5 monitored alarm systems
1. SimpliSafe Bamburgh
2. Verisure
3. AMCO Compact
4. ADT Police Response
5. SimpliSafe Starter
Why are these the best?
Our ratings are based on how the quantity and quality of hardware that comes in these packages, how much they cost, and customer reviews.
There are very few national monitoring services in the UK, with these four companies dominating the market. Fortunately, they're all excellent.
SimpliSafe came out on top because it offers the most cutting-edge packages around, for hundreds of pounds less than its competitors. 
It's also for this reason that its starter pack is the best budget option.
Verisure also possesses top-tier hardware, and is perfect for anyone willing to splash the cash to get the latest innovations in security technology.
AMCO and ADT made the list because of their sterling reputations, which they've earned over many years of serving the public.
AMCO is perfect if you want a small company that values close relationships with its customers, while ADT – at 146 years old –  is ideal if you're looking primarily for a name you can trust.
SimpliSafe Bamburgh
Price: £503.88, then £19.99 per month (£743.76 for 1st year)
Camera
Sensors
Siren
Extras
Trustpilot score (/5)
720p
3 entry sensors,
2 motion detectors,
1 broken glass sensor
95dB
2 key fobs,
1 panic button
4.5
The SimpliSafe Bamburgh package is the perfect size for a small house. You can easily install it yourself – for free – before connecting it to your smart hub, whether it's made by Amazon, Google, Apple, or Nest.
If you need more sensors – we recommend a motion detector in the top corner of any hallway or main room – they can be added for £30 each.
And if you don't like it, you can cancel or pause at any time, as SimpliSafe operates on a monthly rolling contract. Uniquely, you can even return it within 60 days for a full refund.
Verisure
Price: contact Verisure for more information
Camera
Sensors
Siren
Extras
Trustpilot score (/5)
1080p
4 entry sensors,
2 motion detectors
105dB
1 key fob,
1 panic button,
fake fog
4.6
Verisure is best for those who enjoy premium services. Its state-of-the-art smart home hardware is exemplified by the ZeroVision fog barrier, which promises to expel burglars within 45 seconds by making it impossible to see anything.
The system uses a SIM card, meaning that if wifi, 3G, and 4G all go down, your alarm will still alert Verisure's monitoring centre.
The company also offers to send guards to secure your home for 48 hours after an attempted break-in, if you're away.
AMCO Compact
Price: £659, then £18.99 per month for 1 year (1st year: £886.88)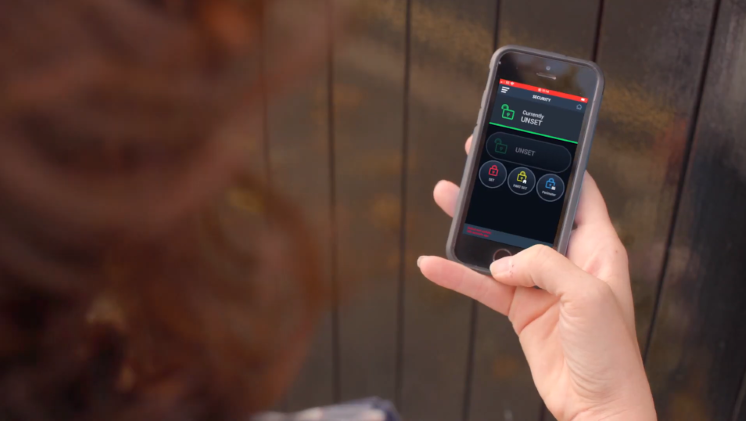 Camera
Sensors
Siren
Extras
Trustpilot score (/5)
720p
1 entry sensor,
3 motion detectors
115dB
1 key fob,
1 panic button,
1 decoy siren
4.8
This family-owned company, which only has around 10,000 customers, is the one for you if you're after a small, trustworthy firm with a personal touch. 
AMCO's best offering costs around £140 more than SimpliSafe's package over the first year, but presents a solid offering with a low monthly cost.
The company is also rightly proud of its LiveTalk feature, which enables monitoring staff to speak directly to burglars and scare them off.
ADT Police Response
Price: £599, then £32.99 per month for 3 years (£994.88 for 1st year)
Camera
Sensors
Siren
Extras
Trustpilot score (/5)
N/A
1 entry sensor,
3 motion detectors
100dB
4 key fobs,
1 decoy siren
4.5
You can place your trust in ADT, without worrying that this 146-year-old company will lead you astray. If you become one of the firm's 237,000 customers, you'll be in safe hands.
Unfortunately, the price for this peace of mind is steep, with installation fees taking the overall cost of this system to £1,787 across three years.
ADT also offers the Keyholder Response package, which is considerably cheaper but doesn't include the monitoring centre calling the police – an instant deal-breaker.
SimpliSafe Starter
Price: £278.96, then £12.99 per month (1st year: £434.84)
SimpliSafe's starter package is the ideal budget option: reliable, up-to-date hardware with a cheap monthly contract that you can cancel at any time.
It's perfect for those who live in a one-bedroom flat that's not on the ground floor – and if you live in a bigger place, you can use it as a trial run. If you enjoy it, add more sensors. If not, send it back within 60 days for a full refund.
If you stick with it, every year after the first one will only cost £155.88 – or 43p per day.
What kind of monitored alarm system should I get?
It's difficult to choose a home security system. A good rule of thumb is that the bigger your home, the more sensors you'll need.
All monitored networks will come with at least one camera or image-capturing motion detector, so don't worry about that.
Your home will have unique needs, but generally, this is how many motion and entry sensors you should look at purchasing, depending on your home size.
Home type
Sensors
One-bedroom non-ground floor flat
1 motion detector,
1 entry sensor
One-bedroom ground floor flat
1 motion detector,
2 entry sensors

Two-bedroom house
6 motion detectors,
2 entry sensors

Three-bedroom house
8 motion detectors,
2 entry sensors
Monitored alarm systems monthly cost and installation
Prices vary wildly when it comes to monitored alarm systems.
They range from SimpliSafe's £278.96 Starter pack to ADT Police Response, which costs just shy of £1,000 over the first year.
Different companies will offer different add-ons and gadgets, from AMCO's LiveTalk to Verisure's ZeroVision fog, but the main variable is the number of motion detectors and entry sensors.
Focus on how many of those you need, choose a reliable company that doesn't drain your bank balance, and you'll stay within your budget.
Monitored vs unmonitored alarm systems
| Monitored | Unmonitored |
| --- | --- |
| Trained professionals watch over your home | Less expensive |
| The safety of your home and loved ones isn't all on your shoulders | More freedom to decide what kind of system you want |
| Helps you to avoid experiencing one of the 300,000 annual burglaries in the UK | |
| Emergency services will always be called, in any scenario | |
| Generally more technologically advanced | |
Pros and cons of monitored alarm systems
✔ Pros:
Better protection – you'll have a team of paid guardian angels watching over you
Monitoring staff can scare off burglars who've broken in
The police, ambulance, and/or fire brigade will be called when a crisis is confirmed
Fewer false alarms
More cutting-edge security gear
X Cons:
Can be much more expensive
May never be needed
Summary
The best monitored alarm system is the SimpliSafe Bamburgh – and by this point, you should know whether it's the right deal for you, or whether you'd rather go for a package from Verisure, AMCO, or ADT.
Paying for monitoring can be expensive, but if the worst happens, you'll want to be as protected as possible – and a team of trained security experts can help keep you safe.
You're ready to compare quotes from home security experts in your area. Just complete this form to take a big step towards feeling safer.