✔ The best monitored alarm system is the SimpliSafe Bamburgh
✔ A monitored alarm system can cost as little as £249
✔ Fill in the form above for free, bespoke home security quotes
---
You've got a home full of loved ones, possessions you adore, and sentimental items you could never replace, should the worst happen.
You have no idea what's coming, and with so much on the line, the best way to protect everyone and everything you love is to keep an eye on it every minute of every day – but of course, that's impossible.
This is where monitored alarm systems come in. They provide round-the-clock security personnel who will respond instantly to any sign of serious danger, giving you peace of mind.
All of the following monitored alarm systems will provide you with a higher level of security than traditional networks.
Best 5 monitored alarm systems
1. SimpliSafe Bamburgh
2. Verisure
3. AMCO Compact
4. ADT Police Response
5. SimpliSafe Essentials
If you want to find out why we've rated these machines best in class, keep reading – otherwise, you can fill in this form to receive bespoke quotes for security alarm systems.
But before we get into what makes each of these packages special, let's quickly get the basics sorted.
What is a monitored alarm system?
A monitored alarm system is a home security network that's watched over by a company's team of trained security professionals, who will be ready to respond to any emergency.
If a burglary, fire, or other crisis occurs, they'll follow the protocol agreed with you. This usually involves notifying you and the emergency services, and can include the provision of the company's guards.
SimpliSafe Bamburgh
Price: £503.88, then £19.99 per month (£743.76 for 1st year)
The Bamburgh package is the best around – and it's perfect for a three-bedroom house, which happens to be the average British home.
With three entry sensors and two motion sensors, you can protect all your key entry points.
There's even a glass-break sensor to let you know if a criminal tries to get in through a window – as 29% of burglars in the UK do, according to the Office for National Statistics.
The SimpliCam camera is only 720p, which is on the low side based on industry standards, but should still be good enough for your home. The package also comes with extensive smart home integration, linking to Amazon, Google, Apple, August, and Nest.
DID YOU KNOW:
In 2018, just 12 years after the company was created by two university students, SimpliSafe was valued at $1 billion.
You'll have two key fobs, a panic button, and a 105dB siren (which is just shy of the average human pain threshold), as well as a team of guardian angels who look over your home 24/7.
The £12.99 per month Pro plan is fine – and means SimpliSafe's team will let you know whenever your home has been compromised – but we recommend the £19.99 Pro Premium plan.
With this package, SimpliSafe will not only contact you, but will also visually confirm the entry into your home, and then alert the police.
If they try all your trusted contacts and can't reach any of them, they can also dispatch a guard to your property to investigate, so you'll know your home's being protected. This is an optional add-on that costs £75, with an extra £15 for each 15-minute period the guard is at your home – which sounds like a decent price for keeping your loved ones safe from a confirmed intruder.
The Bamburgh system will also let you know if a window or door is open when you leave home – even specifying which one – and can send a non-emergency alert when someone gets into somewhere they shouldn't. Your pet or toddler won't be able to access their treats drawer undetected anymore!
It also allows you to arm your monitored alarm system from anywhere, get alerts straight to your phone, and record as much as you want from your security camera.
And if you don't like the package, then no problem. SimpliSafe gives you a monthly rolling contract with no obligation to renew, and allows you to cancel or pause your service at any time.
You can even return it for a full refund within the first 60 days – a unique provision among top-tier monitored alarm suppliers.
There's also no installation fee, making the price more reasonable than any other company – especially as it's sent by free express delivery.
Verisure
Price: contact Verisure for more information
Verisure is another cutting-edge company that's ready to keep you and your loved ones safe using the latest smart home technology.
There's no better example of this forward thinking than the ZeroVision fog barrier, which releases a seemingly endless cloud of fog to block the burglar's vision and expel them within 45 seconds.
As Verisure says: "They can't steal what they can't see."
The company's package is extremely impressive across the board, and depending on what price you're able to agree with Verisure's representatives, it may be the right choice for you.
If you have a house with three or four bedrooms, Verisure can offer you four door or window sensors, two photo detector cameras, a key fob, a panic button, the aforementioned fake fog, and a six-hour battery backup for your wireless gear.
If you want to complement your photo detector cameras with a 1080p camera that sports a 180° field of vision, uploads recordings to the cloud, and costs just £99 extra, consider getting the CloudCam Pro as well.
The entire system is much more hack-proof than most – it links through to Verisure's monitoring team through a SIM card, meaning that burglars can't gain access to your wifi, or leave you defenceless by cutting your phone lines.
Verisure can also send guards to secure your home for 48 hours if you're not able to return to your premises after a burglar attempts to break in.
AMCO Compact
Price: £659, then £18.99 per month for 1 year (1st year: £886.88)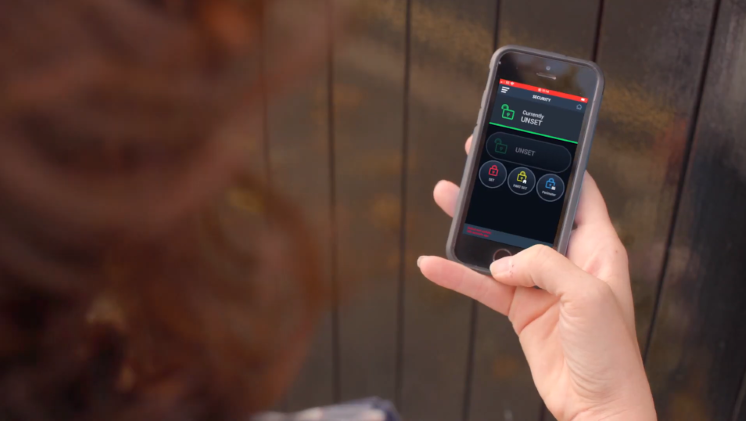 AMCO's best monitored alarm system costs £150 more than SimpliSafe's package, but still offers a low monthly cost for a solid product.
Along with a standard-issue control panel, our mystery shopper found that for the above price, you'll get a door or window sensor, three motion detectors, an internal siren, and a decoy siren.
The company is also rightly proud of its LiveTalk feature, which enables monitoring staff to speak directly to burglars and scare them off.
Like SimpliSafe and Verisure, this family-owned company allows you to control the system with an app, and provides you with a key fob and panic button – though in AMCO's case, both capabilities are part of the same device.
AMCO is the one for you if you're after a small, trustworthy firm with a personal touch. 
With only around 10,000 customers and an impressive score of 4.7 out of 5 on Trustpilot, this is a company you can feel safe using.
ADT Police Response
Price: £599, then £32.99 per month for 3 years (£994.88 for 1st year)
As is often the case, ADT's best offering is also its most expensive – and unfortunately for this 146-year-old company, it's also much pricier than it has any right to be.
It also doesn't contain anything special. After you set aside the standard control panel and keypad, there are three movement sensors and a door sensor, as well as a siren. ADT will also provide you with four key fobs and a decoy siren box.
None of this justifies charging £32.99 per month for three years, at an overall cost of £1,787 when you include the installation fee.
However, ADT is a name you can trust, and the company seems to treat the great majority of people well, scoring 4.2 on Trustpilot. Maybe that's why it has a huge customer base of more than 237,000.
The company's other main monitoring option, the Keyholder Response plan, is much cheaper at £99 – but ADT's staff won't contact the police for you. 
That may sound minor – you can just call the police yourself, right? – but if you're asleep, away, or your phone's off, you'll want to know your home is protected.
SimpliSafe Essentials
Price: £308.94, then £19.99 per month (1st year: £548.82)
SimpliSafe's second entry in this list is another top-tier option, and the company's most popular package – probably because of its excellent value.
You can expect to receive three entry sensors, one motion sensor, and the power of the SimpliCam, again with no installation fee, and the ability to cancel your monitoring subscription at any point.
This deal doesn't include any of the extras, like a siren, panic button, or glass-break sensor – but if you have a small-to-medium house and don't want to break the bank, this would be a fitting home security solution for you.
Best budget monitored alarm system: SimpliSafe Starter
Price: £278.96, then £12.99 per month (1st year: £434.84)
SimpliSafe Starter does exactly what it says on the tin: it gives you all the basics for an affordable price, and lets you build from there if you need to.
With one entry sensor, one motion sensor, and a SimpliCam, it supplies everything you need to help protect your home and deter burglars.
This collection of security gear suits small houses and flats, and comes with an upfront cost of just £278.96 – a real bargain for 24/7 monitoring that can be ended at any time.
With a £12.99 per month contract, that means you'll only pay £434.84 for the first year, with every subsequent year costing £155.88 – or 43p per day.
What kind of monitored alarm system should I get?
The bigger your home, the more security gear you'll need – and if you're looking for a monitored alarm system, you probably own a house or a large flat.
If you look past the bells and whistles, the main difference between different monitored alarm systems is the number of motion detectors and door or window sensors.
All monitored networks will come with at least one camera or image-capturing motion detector, so don't worry about that.
If you have a bigger-than-average flat, or a one-bedroom house, you should look at getting a package with one sensor and one detector.
For a house with two or three bedrooms, you'll probably need three sensors for your most vulnerable ground-floor doors and windows, and a motion detector in your front hall.
For larger houses with four or more bedrooms, buy at least five sensors for all your ground-floor bedroom doors and windows, and one to three motion detectors, depending on how many larger areas you want to keep an eye on.
Monitored alarm systems monthly cost and installation
Prices vary wildly when it comes to monitored alarm systems.
They range all the way from SimpliSafe's £278.96 Starter pack – which comes with a low monthly fee of £12.99 and an installation process you can do yourself – to ADT Police Response, which costs just shy of £1,000 over the first year.
Different companies will offer different add-ons and gadgets, from AMCO's LiveTalk to Verisure's ZeroVision fog, but the main variable is the number of motion detectors and entry sensors.
Focus on how many of those you need, choose a reliable company that doesn't drain your bank balance, and you'll stay within your budget.
Monitored vs unmonitored alarm systems
| Monitored | Unmonitored |
| --- | --- |
| Trained professionals watch over your home | Less expensive |
| The safety of your home and loved ones isn't all on your shoulders | More freedom to decide what kind of system you want |
| Helps you to avoid experiencing one of the 300,000 annual burglaries in the UK | |
| Emergency services will always be called, in any scenario | |
| Generally more technologically advanced | |
Pros and cons of monitored alarm systems
✔ Pros:
Better protection – you'll have a team of paid guardian angels watching over you
Monitoring staff can use techniques to scare off burglars who've broken in
The police, ambulance, and/or fire brigade will be called when a crisis is confirmed
Fewer false alarms
More cutting-edge security gear
X Cons:
Can be much more expensive
May never be needed
Summary
The best monitored alarm system is the SimpliSafe Bamburgh – and by this point, you should know whether it's the right deal for you, or whether you'd rather go for a package from Verisure, AMCO, or ADT.
Paying for monitoring can be expensive, but if the worst happens, you'll want to be as protected as possible – and a team of trained security experts can help keep you safe.
You're ready to compare quotes from home security experts in your area. Just complete this form to take a big step towards feeling safer.