✔ Rangers top the NFT Super League, having sold 1,111 NFTs
✔ Manchester City fans have paid more than £100,000 for the club's NFTs
✔ 225 teams have signed deals for their players' images to be sold as NFTs
---
NFTs are speeding up climate change, but the biggest football clubs are increasingly jumping on this trend.
Firstly, a quick explanation: an NFT, or non-fungible token, is a digital certificate that says you own a digital item.
It's like a digital version of the document you'd have if you owned a fish and chip shop, Buckingham Palace, or Manchester City, except that the product you own will also be digital – usually an image, video, or animation.
NFTs are paid for with cryptocurrency, and recorded on an online ledger called a blockchain.
Because the items can often be taken by anyone who's able to save images, an NFT is practically meaningless, and has value only as a status symbol – as well as an investment that may one day reap profits for its owner.
Despite their frivolous nature, NFTs are seriously bad for the climate, with the average item producing 211 kg of CO2 (Quartz, 2021) – 92 times more than a physical piece of art.
But many football clubs have looked at this market – which has conducted £10.6 billion in trades over the past six months – and seen an opportunity to turn it into a new revenue stream.
So we've run the data, and identified the clubs with the most NFT own goals.
The Worst NFT Offenders
1. Rangers
2. AC Milan
3. Manchester City
4. Juventus
5. Barcelona
How do football clubs make money from NFTs?
There are two main ways football teams are currently profiting from NFTs. The first is by selling images to do with the club on NFT auction sites.
The second is by licensing their players' likenesses to NFT fantasy football sites.
For instance, 225 clubs across 39 leagues have made deals with Sorare, a fantasy football game in which users pay money to own NFTs of real-life footballers, and then score points depending on how successful they are on the pitch.
Teams on the site include Liverpool, Real Madrid, Barcelona, Paris Saint-Germain, Bayern Munich, Juventus – practically a who's who of the world's most famous teams.
To purchase NFTs, you have to convert real money into Ethereum, which has the second-biggest carbon footprint of any cryptocurrency.
You're then able to buy NFT cards for hundreds or even thousands of pounds.
If a player does well and their card's value rises, you can choose to sell their NFT card for a profit.
This sounds a lot like a back-door way to gamble on football players as if they're on the stock market – which didn't go too well for Football Index and bettors who lost £90 million when it folded.
1. Rangers
In November 2021, the storied Glasgow club launched a massive 1,111 NFTs to celebrate their 2020/21 Premiership victory.
With each NFT producing an average of 211 kg in carbon emissions, that means Rangers' collection is responsible for 234 tonnes of CO2.
One of these NFTs shows then-manager Steven Gerrard lifting the Premiership trophy. It's somehow listed at £2,230.
In total, fans have spent £13,855 on the collection, which is hosted on NFT marketplace OpenSea and can be bought with carbon-heavy Ethereum.
Rangers' only saving grace is that the club hasn't yet ended up on Sorare.
2. AC Milan
In October, the world-famous Italian team dropped 100 NFTs on the site of crypto company Socios, which promised it would be "the first of many similar launches to be held with the club."
To have the opportunity to buy one of these NFTs, you had to own at least 10 AC Milan fan tokens, which at that point would have cost more than £60 – but more on that later.
AC Milan have also signed up with Sorare, which means they're indirectly responsible for unknown hundreds of tonnes of CO2.
3. Manchester City
The current Premier League champions are also near the top when it comes to polluting the Earth and taking money off their fans through NFTs.
The club has so far released 60 NFTs, worth a total of £180,000.
One of Man City's official NFTs is an image signed by their first-team goalkeeper, Ederson, which is currently on offer for £13,800.
Want a version with Gabriel Jesus's autograph? That'll be £22,630, please.
A video featuring the signatures of City's 2020/21 Premier League-winning squad was last bought for £5,500, and is now being sold for £12,600.
A 13-second animation of a person dressed in City's kit emerging from a giant blue football was purchased in September for £1,100, and is now up for sale for £2,500.
And that's not all. An 11-second animation of some androids playing football in City's kit was first bought for £3,700, and is now retailing for £252,600.
The club may not be speeding climate change along to the same extent as Rangers or AC Milan, but they certainly are taking advantage of fans' loyalties to line their pockets.
4. Juventus
Juventus are featured on Sorare, and in June, dropped three NFTs of their club kits.
The club partnered with Palm, a relatively eco-friendly cryptocurrency company, so this wasn't the worst move for the climate.
However, it's still a disappointing move from a team whose owners are worth a reported £10 billion.
5. Barcelona
Barcelona have also signed a deal with Sorare, and the venerated Catalan club – which is reportedly more than £1.1 billion in debt – attempted to take an extra step into the NFT marketplace in November 2021.
However, two weeks later, they cancelled their partnership with NFT company Ownix after one of its consultants was arrested on suspicion of fraud and assault.
So Barcelona hasn't yet sold an NFT of their own – but it's the thought that counts. And it seems only a matter of time before the five-time Champions League winners get around to it.
Are clubs also selling cryptocurrency?
As well as NFTs, dozens of teams have also launched their own cryptocurrencies, known as 'fan tokens.'
Included in this number are Premier League sides Man City, Arsenal, Leeds, Everton, and Aston Villa, Italian giants Juventus, Inter Milan, and AC Milan, Spanish teams Atletico Madrid and Barcelona, and – remarkably – Argentina and Portugal's national teams.
These tokens offer fans the ability to vote on relatively meaningless issues like goal celebration music, the team bus's design, or which kit the team should wear – and more coins typically means more votes.
As with all cryptocurrencies, their worth goes up and down, but at time of writing, a single Man City token costs £8, while a Paris Saint-Germain token will set you back around £11.
The potential for clubs to exploit fans who don't know much about cryptocurrencies was brought to bear in December 2021, when the Advertising Standards Authority banned two of Arsenal's fan token adverts.
It said that Arsenal had been "taking advantage of consumers' inexperience or credulity, trivialising investment in crypto assets, misleading consumers over the risk of investment and not making it clear the 'token' was a crypto asset."
Cryptocurrency is also bad for the environment, as the industry uses huge amounts of electricity without obviously benefiting humanity.
Are footballers also trying to sell NFTs?
Yes. Numerous football players, including Premier League stars Paul Pogba, Reece James, and Diogo Jota, have tweeted their own adverts – both paid and unpaid – for NFTs.
Paul Pogba, a World Cup winner who cost Manchester United £89 million, looked notably ridiculous as he dubbed himself "the father of dragons" for selling pictures of dragon eggs.
Dias and Jota, who play regularly for Manchester City and Liverpool respectively, are part of a collection put together by Portuguese super agent Jorge Mendes that also includes James Rodríguez, Keylor Navas, and João Félix.
For the mind-boggling price of £2,600, you can buy six videos of Rodríguez – a 2014 World Cup golden boot winner, and more recently, an Everton flop. This offering has been purchased 19 times since its launch.
Former England and Chelsea captain John Terry has more or less turned his Twitter account into one continual advert for different Chelsea-themed NFT collections, and all-time England top scorer Wayne Rooney has also enthusiastically thrown himself into the NFT sphere.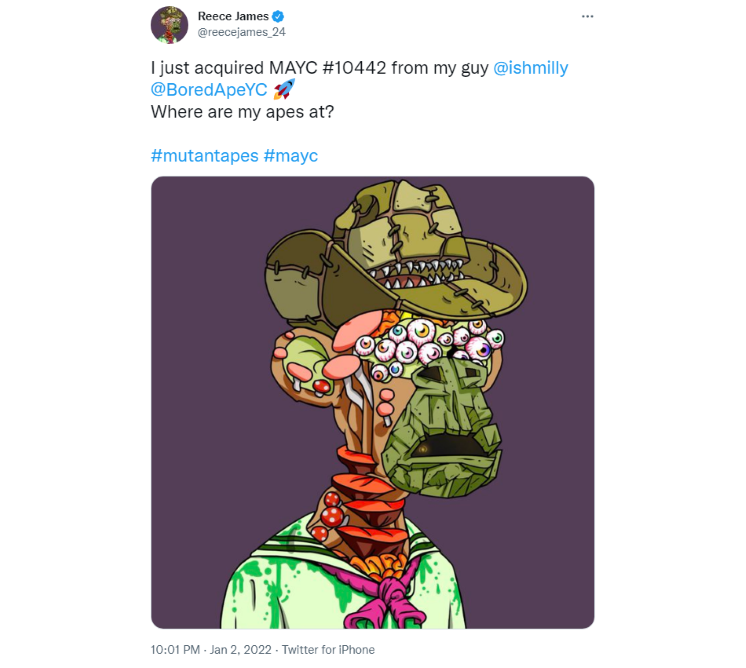 In December, Arsenal's £45 million midfielder Thomas Partey announced a brand deal with MetaSoccer, a fantasy football game in which users pay cryptocurrency for NFTs that represent both real and fictional players.
Partey said the deal made him "the first NFT Football Player of the metaverse."
Another of these games, Sorare, boasts investors and advisors including Antoine Griezmann, Gerard Piqué, and André Schürrle – who have won the past three World Cups between them.
In September, Sorare announced that it had raised $680m (£500m) in funding, including an investment from another former England captain, Rio Ferdinand – an investment that put the company's overall value at £3.15 billion.
How bad are NFTs for the climate?
NFTs are extremely bad for the climate, releasing millions of tonnes of carbon emissions to create absolutely no material gain for humanity.
The average NFT is responsible for 211 kg of CO2 (source: Quartz). That means the sale of just 30 NFTs creates 6.3 tonnes of CO2 – more than a typical Brit's annual carbon footprint.
And NFTs are only growing in popularity. Over the past year, there were more than 22 million sales, costing NFT consumers a total of $16 billion (£12 billion) (source: NonFungible.com).
Those sales created an annual carbon footprint for the NFT industry of 4.7 million tonnes – more than the yearly emissions of Albania, Iceland, and even Madagascar, a country of 27.7 million people.
It's also the same amount of emissions released annually by 762,720 Brits – more than the population of Leeds or Manchester.
What's the future for NFTs in football?
Clubs are turning to NFTs to fill the financial hole left by gambling companies, as sides start to move away from an industry that has historically preyed on vulnerable people.
It seems inevitable that eventually, the same kind of pressure will come to bear on clubs who sell NFTs, as they're similarly exploitative.
Thankfully, some teams are already saying no to NFTs.
In December, third-tier side Bradford City rejected a takeover bid from a group of American cryptocurrency investors who planned to continually raise funds by selling NFTs to fans.
Summary
There are two major offences at play here, both worthy of a red card and a lengthy suspension. Firstly, there's the enormous damage that NFTs are doing to the planet, for no good reason.
Secondly, football's dalliance with NFTs is a transparent attempt to extract even more money from a fandom that has been exploited for decades.
Fans already have to pay stratospheric prices to watch their team live, watch them on TV, or buy any club merchandise. They shouldn't be encouraged to invest thousands of pounds into a market that may, at any moment, crash and never recover.
Apart from Rangers, all the clubs in our worst offenders list were also part of the infamous attempt to set up a European Super League in 2021 – and that's no coincidence. Both are examples of greedy cash grabs, with no regard for anyone – or anything – else.