As we move towards more sustainable ways of heating our homes, traditional boilers are being left behind. One option gaining popularity is air source heat pumps, which heat our homes by extracting warmth from the surrounding air.
In theory, air source heat pumps are the ideal solution for heating our homes sustainably, as they don't rely on fossil fuels. That doesn't mean they're perfect though – many argue that we're still some way away from bringing heat pumps up to the same level of reliability as gas-powered boilers.
Before you make the move from a boiler to an air source heat pump, you should consider whether the potential downsides outweigh the positives. To help you make an informed decision, we're taking a look at seven of the main problems with air source heat pumps. We're also including solutions to these problems, so it's not all doom and gloom!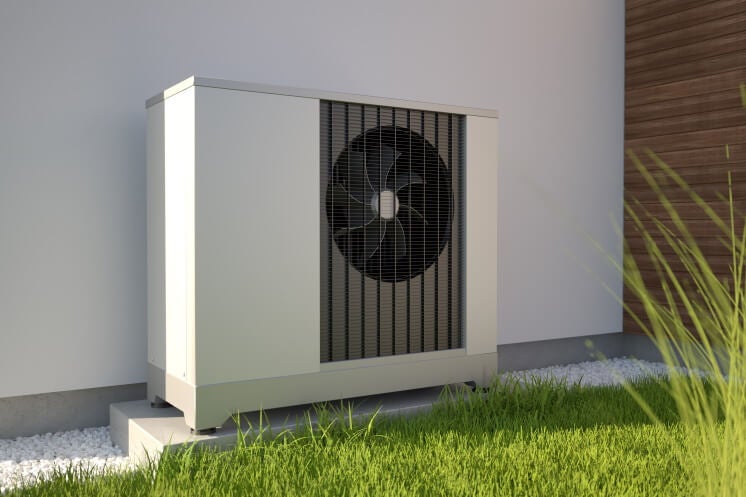 1. Poor installation
Incorrect installation of an air source heat pump can make it far less efficient in heating your home than it should be. Poor installation of the associated pipework will almost certainly impact the pump's efficiency, too. Other potential installation flaws include low-quality parts, substandard workmanship, and a lack of knowledge of the best location to install the heat pump.
A current problem with installations is simply that there aren't yet enough qualified engineers capable of installing heat pumps. The UK's Department for Business, Energy and Industrial Strategy (BEIS) estimates that there are only 3,000-4,000 qualified heat pump installers in the country, compared to roughly 100,000 installers for gas boilers. Even those who are qualified are not necessarily experienced enough with installing air source heat pumps, because the technology is relatively new.
However, this situation is improving as air source heat pumps become more popular. The government grants available are also making it easier than ever for people to adopt the technology.
2. Freezing temperatures
Perhaps the biggest single issue with air source heat pumps is that, frankly, they don't work as well as gas-powered boilers in freezing temperatures. They can still heat your home, with many heat pumps able to (just about) operate in temperatures as low as -20°C (-4°F). The problem is that once you reach temperatures like this, the efficiency of the air source heat pump really starts to drop off.
And once it drops off, more electricity is needed to extract what little warmth in the air there is – in turn increasing your electricity bills (assuming you're not providing your own electricity, that is!). You can remedy this with a hybrid heat pump (one that combines an ordinary boiler with the air source heat pump) or a more efficient air source heat pump, but of course with greater efficiency comes greater cost. On that note…
3. Upfront cost
Air source heat pumps are expensive, more so than standard boilers. Even with upcoming government grants, buying a heat pump will be out of reach for many homes because of the costs involved in making sure a property can accommodate one.
On average, an air source heat pump costs between £6,000-£8,000 to install, and a further £218 each year to run. Whilst the running cost is almost twice as low as that of a gas-powered boiler, the upfront costs are higher.
Other costs include setting up any necessary piping, something that can dramatically increase the price in older properties. This is because older properties do not commonly have piping in the right locations. It's especially complicated if the property is a listed building and oftentimes, the piping in older buildings is embedded within thick stone walls, making it challenging for most installers to access.
Another factor is insulation. Without sufficient insulation, an air source heat pump won't be able to heat up a property as efficiently as it would a properly insulated home. Of course, this means you'll have to invest in insulation for your home, adding to the upfront cost.
What we will say though, is despite the upfront costs of an air source heat pump and its installation, the potential savings over the years are significant. To get a better idea of how much you might spend and what you could eventually save, check out our guide on air source heat pump costs.
4. Noise
For some, the sound of an air source heat pump whirring up can be irritating. This is especially true if the heat pump is installed too close to a neighbour's window, though the UK's strict planning standards make this scenario unlikely.
Even so, the owners of a heat pump might themselves dislike the sound the heat pump's fan makes when active. One less noisy alternative is a ground source heat pump, but the downside is that the upfront costs for ground source heat pumps can be even higher (averaging around £19,000).
5. Regulations
Talking of planning standards, you should be aware that certain requirements must be met in order to install an air source heat pump. This includes the following:
– The installation must be at least a metre from the boundary of your property
– The heat pump must only be used for heating your home
– It must be installed on an appropriate surface (either on the ground or on a flat roof)
– It must have a maximum volume of no more than .6 cubic metres
Sometimes these regulations can make installing a heat pump impossible, though truth be told most properties shouldn't have too many problems. However, much older properties – such as listed buildings – might struggle to get permission to install an air source heat pump.
6. Property value/aesthetics
To be blunt, air source heat pumps are not known for their aesthetic qualities! Seeing a bulky unit on the side of a property is unlikely to appeal from a visual point of view, though you could argue there is beauty in sustainability.
For some, having an air source heat pump jutting out of their property just isn't an option. Again, listed buildings are more likely to fall into this category, because there are often rules in place regarding how much an owner can alter the building's original appearance. A potential solution to this is the aforementioned ground source heat pump, which, as the name suggests, is hidden underground and out of sight.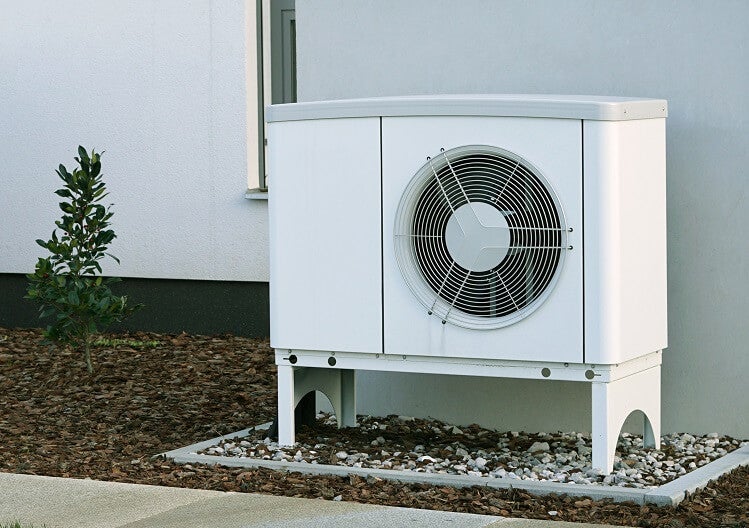 7. Heat efficiency
Although air source heat pumps are touted as sustainable like-for-likes to gas-powered boilers, the reality is that they cannot yet reach the same temperatures. A gas-powered boiler will comfortably heat your radiators to the tune of 60-65°C (140-149°F), whereas most air source heat pumps will only reach up to 45°C (113°F).
This is more than enough for a hot shower, but it can make heating a home more difficult in the winter. Additionally, when an air source heat pump tries to reach these temperatures in winter, it will have to stay on longer – meaning more electricity is used, which adds to the owner's energy bill.
As a result, some people prefer to get a hybrid air source heat pump. A hybrid air source heat pump uses air to heat a home in the summer (more so for hot showers than radiators!), and falls back on a traditional boiler in the winter. Whilst not a perfect solution in the move to sustainable energy, they're definitely a useful stepping stone!
The technology in air source heat pumps is always improving, so we hope that they can get to a point where using them in the depths of winter is more than enough to heat a home properly!